CAESAR SANDWICH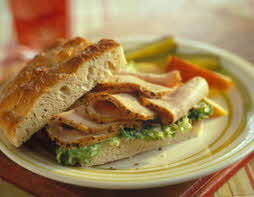 Serves 4.
• 3/4 pound cooked Peppered Pork Roast, thinly sliced
• 3 cups chopped romaine lettuce
• 1/2 cup creamy Caesar salad dressing
• 1/4 cup grated Parmesan cheese
• 1 8-10 inch round loaf focaccia

Directions
Toss lettuce with dressing and cheese, set aside.

Slice focaccia horizontally; cut into 4 wedges.

Layer pork and then lettuce on focaccia bottoms.

Place focaccia tops over lettuce.

Use leftover Peppered Pork Roast (in main dish category).

Serving Suggestions
Using thinly sliced Peppered Pork Roast, this sandwich makes a tasty meal with dill spears and apple wedges.

Nutrition Facts
Calories 370 calories; Protein 33 grams; Fat 11 grams; Sodium 690 milligrams; Cholesterol 70 milligrams; Saturated Fat 3 grams; Carbohydrates 35 grams
Recipe and photo courtesy of National Pork Board. For more information about The Other White Meat, visit TheOtherWhiteMeat.com