GRILLED CHICKEN WITH A POMEGRANATE & CARAMELIZED ONION REDUCTION AND GOAT CHEESE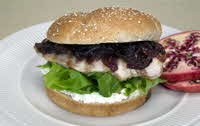 Grain Foods Foundation and Chef Dave Lieberman Name Winner of a Nationwide Sandwich Recipe Contest
Tracey McCaughey of Ardmore, Pa. winning entry in the 2006 'America's Healthy Sandwich Showdown' contest.
"The combination of sweet and tangy flavors in the pomegranate reduction is rich with antioxidants, and is complementary to the creamy tang of the goat cheese," explained McCaughey in her submission. "The smoky grilled chicken provides protein while the crisp romaine lettuce and the soft, fiber-rich whole grain Kaiser rolls offer freshness and round out the sandwich."
Serving size: 4 sandwiches
Ingredients
• 3 tablespoons extra virgin olive oil
• 3 cups yellow onion, thinly sliced
• 1 1/2 cups pomegranate juice
• 1/4 cup honey
• 4 chicken breasts
• 4 whole grain Kaiser rolls
• 3 ounces creamy goat cheese
• 2 cups romaine lettuce, shredded

Directions
1. To make the Pomegranate & Caramelized Onion Reduction- In medium skillet or saucepan, heat the olive oil until warm and add the onion. Cook onion on med-low heat for about 10-15 minutes, stirring occasionally, until caramelized. Add the pomegranate juice and honey, and cook for about 10 minutes until reduced to about 3/4 cup.

2. While sauce is reducing, heat grill pan on medium heat and grill chicken breasts until done, about 10 minutes.

3. Open rolls and spread goat cheese evenly on the bottom half of each roll. Place 1/2 cup lettuce on top of goat cheese and top lettuce with grilled chicken breasts. Spoon pomegranate reduction over chicken breasts and onto cut side of Kaiser roll lid. Top chicken breasts with roll lid and serve.

About the Grain Foods Foundation
The Grain Foods Foundation, a joint venture of members of the milling and baking industries formed in 2004, is dedicated to advancing the public's understanding of the beneficial role grain-based foods play in the human diet. Directed by a board of trustees, funding for the Foundation is provided through voluntary donations from private grain-based food companies and is supplemented by industry associations. For more information about the Grain Foods Foundation, visit www.grainpower.org