CUBAN SANDWICH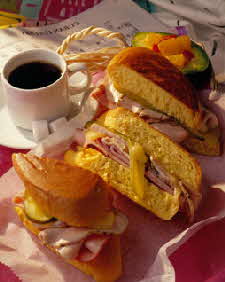 Serves 1
• 1 Cuban* or submarine roll
• 1 teaspoon prepared mustard
• 1 ounce thinly sliced roast pork
• 1 slice Swiss cheese
• 1 ounce thinly sliced ham
• 1 pickle (dill or bread & butter), sliced

Cooking Directions
For each sandwich, split roll in half lengthwise; spread roll halves with mustard.

Layer sandwich with roast pork, Swiss cheese and ham; add sliced pickles and close sandwich.

Lightly butter outside surface of roll and grill on a hot griddle until lightly toasted and cheese is melted.

Or place buttered sandwich on baking pan in 400 degrees F. oven for 8-10 minutes, until lightly toasted.

* Soft egg-rich roll available from Cuban bakeries.

Serving Suggestions
The Cuban Sandwich is a favorite of the Hispanic community in Miami. Known also as Media Noche ("midnight"), it is a satisfying fortifier in the wee hours, after an evening of dancing and music. It also makes a satisfying hearty supper.

Nutrition Facts
Calories 570 calories; Protein 32 grams; Fat 14 grams; Sodium 2860 milligrams; Cholesterol 55 milligrams; Saturated Fat 7 grams; Carbohydrates 78 grams; Fiber 5 grams

Recipe and photo courtesy of National Pork Board.
For more information about The Other White Meat, visit TheOtherWhiteMeat.com