BROADCAST BURGERS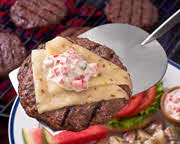 Expert's note: These burgers are big and full of flavor, but can also be prepared with a milder flavor. Instead of 2 pounds of lean ground beef, use a mixture of 1 pound of ground beef and 1 pound of ground pork.
Difficulty Level: Easy
Prep time: 20 minutes
Cook time: 8-12 minutes
Makes: 6 servings

Ingredients:
• 2 pounds lean ground beef
• 1/2 cup crushed potato chip crumbs
• 1/2 cup finely diced onion
• 1 1-oz. packet Hidden Valley® Original Ranch® Salad Dressing & Seasoning Mix
1 1/2 tablespoons chopped fresh parsley
• 1 teaspoon vegetable oil
Topping:
• 1/3 cup finely diced red bell pepper
• 1/4 cup sour cream
• 1 tablespoon jalapeno jelly
• 1 1/2 teaspoons finely minced jalapeno pepper

Directions
Heat oil in a medium saucepan until hot. Add the diced onions and cook over medium heat until translucent, about 3-5 minutes. Let cool. Meanwhile, in a large bowl, combine ground beef, seasoning mix, parsley, and potato chip crumbs. Add cooked onions and mix well. Form into 6 patties.

For topping, mix together jalapeno jelly, sour cream, diced red pepper, and minced jalapeno. Refrigerate until ready to use.

Grill patties over charcoal briquets 4-6 minutes per side or until meat is no longer pink in the center. Top with about 2 tablespoons of topping.

Recipe created by football analyst, Mike Golic, on behalf of Kingsford® charcoal