BUFFALO CHEESE STEAK SANDWICH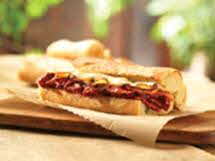 Makes 4 servings
Prep Time: 5 min.
Cook Time: about 13 min.

Ingredients
• 1 tbsp. oil
• 1 large onion, thinly sliced
• 1 (12 oz.) pkg. all beef sandwich steaks, cut into wide strips
• 1/2 cup FRANK'S® REDHOT® Buffalo Wing Sauce
• 8 slices provolone or American cheese
• 4 (6 inch) hoagie rolls, split

Directions
1. HEAT oil in large skillet over high heat. Sauté onion until tender. Transfer to dish.

2. ADD beef steaks to same skillet. Sauté about 4 min. Drain well. Stir in Buffalo Wing Sauce; heat through.

3. DIVIDE onion and steaks evenly among hoagie rolls. Top each sandwich with 2 slices cheese.

4. CLOSE rolls. Place on baking sheet. Heat in 400°F oven about 5 min. until cheese melts. Cut in half to serve.

Recipe courtesy of French's Foods