PACE BLACK BEAN BURGERS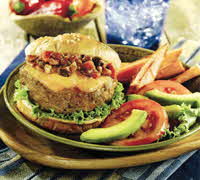 Prep: 10 minutes
Cook: 10 minutes
Makes: 6 servings

Ingredients
• 1 jar (16 ounces) Pace® Black Bean & Roasted Corn Salsa
• 1 1/2 pounds ground beef *
• 6 sesame sandwich rolls

Directions
1. Mix 1 cup salsa and the beef thoroughly in a large bowl. Shape the beef mixture firmly into 6 patties.

2. Cook the patties in a 12-inch skillet or grill pan over medium-high heat for 10 minutes or until they're well browned on both sides and cooked through.

3. Serve the burgers on the rolls with the remaining salsa.

*Substitute 1 1/4 pounds of ground turkey for the ground beef and combine with /4 cup salsa.

Tip: Top each burger with 1 slice Monterey Jack or Cheddar cheese during the last 3 minutes of cooking. Top with sliced avocado, tomato and lettuce.

Courtesy of PaceFoods.com