PEPPERED PORK ROAST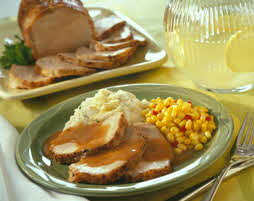 Ingredients
1 4-pound pork loin roast (or 2 2-pound roasts)

6 tablespoons pepper blend seasoning

Cooking Directions
Rub all surfaces of roast(s) with seasoned pepper.

Place pork in shallow roasting pan and roast in 350 degrees F. oven for 45 minutes to 1 hour and 15 minutes, until internal temperature (measured with a meat thermometer) reads 150-155 degrees F.

Remove from oven and allow roast to rest for 10 minutes.

Slice and serve.

Wrap and refrigerate leftovers for up to three days.

Use leftovers with Caesar Sandwich, Caribbean Pork and Mango Salad, or Mediterranean Pasta Salad.

Serving Suggestions
Complete this basic roast with garlic mashed potatoes with pork gravy and buttered corn.

Recipe and photo courtesy of National Pork Board. For more information about The Other White Meat, visit TheOtherWhiteMeat.com