ROASTED PORK LOIN WITH APPLES AND CINNAMON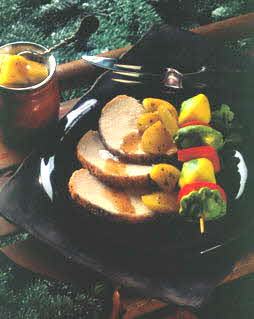 Serves 6
Ingredients
• 2-pound boneless pork loin roast
• 1 tablespoon olive oil
• 1 teaspoon ground black pepper
• 1 teaspoon ground ginger, divided
• 1 teaspoon ground nutmeg, divided
• 1 teaspoon ground cinnamon, divided
• 1/2 cup dry white wine
• 1/4 cup honey
• 1 tablespoon lemon juice
• 2 apples, cored, peeled, and sliced into wedges

Cooking Directions
Rub pork loin with olive oil, pepper and 1/2 teaspoon each ginger, nutmeg and cinnamon.

In a small bowl, stir together the other half of the spices with the wine, honey, lemon juice and apple wedges.

Roast pork in shallow pan in a 350 degrees F. oven for 45 minutes to an hour, until internal temperature (measured with a meat thermometer) reads 155 degrees F.

Remove from oven, let roast rest for 10 minutes.

Meanwhile, simmer apple mixture in a small saucepan until apples are tender; stir in any pork roast juices. Serve sliced roast with apples and sauce.
Serving Suggestions
The trio of ginger-nutmeg-cinnamon will remind you of pumpkin pie. The spices and apples create a classic flavor that marries well with pork. Any leftover roast is great sliced and sandwiched on rye bread with horseradish sauce.

Nutrition Facts
Calories 320 calories; Protein 33 grams; Fat 11 grams; Sodium 190 milligrams; Cholesterol 85 milligrams; Saturated Fat 3 grams; Carbohydrates 19 grams
Recipe and photo courtesy of National Pork Board. For more information about The Other White Meat, visit TheOtherWhiteMeat.com