FIG VINAIGRETTE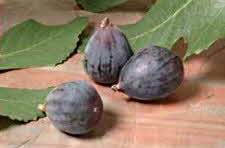 Super Immunity Foods
by Frances Sheridan Goulart
Give your greens a fruity, garlicky finish that benefits four immune centers.
Yield: about 1/3 cup
Preparation Time: 15 minutes

INGREDIENTS
• 1/2 cup balsamic vinegar
• 5 dried Black Mission figs, stemmed and coarsely chopped
• 6 tablespoons water
• 1 tablespoon fresh-squeezed lemon juice
• 2 tablespoons minced shallots
• 1 teaspoon minced fresh thyme
• 1 garlic clove, minced
• 1 tablespoon extra-virgin olive oil
• Pinch salt

DIRECTIONS
Combine balsamic vinegar and figs in small saucepan over high heat, and bring to a boil. Reduce heat and simmer until reduced to 1/3 cup.

Combine fig mixture, water, and lemon juice in blender, and process until smooth. Place fig mixture in small bowl. Stir in shallots, thyme, garlic, olive oil, and salt. Stir well, using a whisk.

Spoon over tossed greens or grains.