FRESH TOMATO VINAIGRETTE
Italian Home Cooking
by Julia Della Croce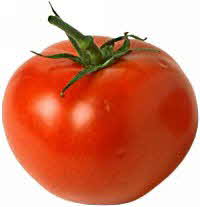 This appealing tomato-colored dressing is best to make when a luscious and sweet freshly picked garden tomato is at hand. Toss it with leafy salads or cooked vegetable salads.
Makes 1¼ cups

INGREDIENTS
• 1 sweet, vine-ripened tomato
• 1 large shallot, minced
• 1 teaspoon dijon mustard
• finely minced fresh flat-leaf parsley
• sea salt and freshly ground black or white pepper
• 1/4 cup good-quality white wine vinegar or sherry vinegar
• 3/4 cup olive oil

DIRECTIONS
1. Cut the tomato in half and push out the seeds. Squeeze out excess juices and chop.

2. Combine the shallot, mustard, parsley, salt and pepper to taste, and vinegar and allow to macerate for up to an hour, if you have the time.

3. Stir in the olive oil and tomato and puree in a food processor; pulse for a few seconds more. Taste for seasoning.