CURRY CHICKEN LIME RICE BOWL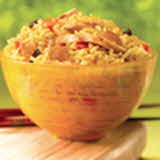 "Rice to the Rescue!" Recipe Contest Winner- Lisa Renshaw
Yield: Makes 6 servings.

Ingredients
• 1 9-ounce jar mango chutney
• 1/4 cup fresh lime juice
• 1/4 cup vegetable oil
• 1/2 teaspoon salt
• 1 tablespoon hot curry powder
• 2 6- to 10-ounce packages refrigerated grilled chicken strips or 3 cups sliced, grilled chicken breasts
• 1 cup diced bell pepper
• 3 cups cooked U.S. basmati or long grain white rice

Directions
In large bowl, whisk chutney, lime juice, oil, salt and curry powder.

Stir in chicken, bell pepper and cooked rice.

Serve immediately or cover and chill.

Nutrition Facts
Calories 349
Total Fat 12g
Cholesterol 48mg
Sodium 447mg
Total Carbohydrate 41g
Dietary Fiber 2g
Protein 21g
USA Rice Federation (www.usarice.com)