Chicken & White Bean Salad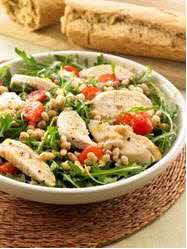 A Canned Food Week UK recipe. There are some delicious, yet healthy recipes using canned food and the Chicken & White Bean Salad, which has been newly created by celebrity chef and Canned Food UK ambassador James Martin, is no exception. This contains canned haricot beans, which are good sources of fibre, key to promoting good digestion, as well as chicken breast, rocket salad and cherry tomatoes.
Serves: 2
Preparation Time: 10 minutes
Ingredients
· 400g can haricot beans, rinsed and drained
· 3 Tbsp extra virgin olive oil
· 1 Tbsp wholegrain mustard
· Zest and juice of a lemon
· Seasoning
· 70g bag rocket
· 2 cooked chicken breasts, sliced
· 8 cherry tomatoes, quartered
Method
• Place haricot beans in a bowl.

• Whisk the oil with the mustard and lemon zest and juice and season.

• Drizzle half of the dressing over the beans. Gently toss to coat.

• Divide the rocket between two serving dishes and then scatter with the beans.

• Add chicken and tomatoes and then drizzle over remaining dressing.
Hints and tips:
Serve with warmed bread to mop up the juices.
Nutrition information (per serving):
· Calories: 501
· Protein: 40g
· Carbs: 24.0g
· Sugars: 4.0g
· Fat: 28.0g
· Sat Fat: 4.0g
· Fibre: 9.0g
· Sodium: 249mg
Canned Food UK will be running the 2nd Canned Food Week April 14-20, 2014. (www.cannedfood.co.uk/cannedfoodweek)