ASIAN CHICKEN & BROCCOLI SLAW SALAD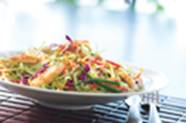 Prep Time: 15 min.
Chill Time: 1 hour
Makes 4 servings
Ingredients
• 1/3 cup French's Honey Dijon Mustard
• 1/3 cup light Asian sesame dressing
• 2 tbsp. orange juice or water
• 2 tsp. grated fresh ginger
• 1 (12 oz.) pkg. broccoli cole slaw
• 3 cups shredded cooked chicken
• 1 large red bell pepper, thinly sliced
• 1/3 cup chopped fresh cilantro
• 4 tbsp. chopped roasted peanuts

Directions
1. COMBINE mustard, dressing, juice and ginger in large bowl.

2. STIR in broccoli slaw, chicken and bell pepper. Cover and chill.

3. SPRINKLE salad with cilantro and peanuts before serving.

Tip: To prepare cooked chicken, microwave 1 lb. chicken breasts, covered, about 7 min. on HIGH until cooked through. Chill.

Nutritional Analysis Per Serving: 303 Calories, 10 g Fat, 2 g Saturated Fat, 0 g Trans Fat, 72 mg Cholesterol, 32 g Protein, 20 g Carbohydrates, 5 g Dietary Fiber, 458 mg Sodium.
Recipe courtesy of French's Foods
French's Mustard is the perfect, all natural way to add flavor to your family's favorites. French's has been America's favorite mustard for over 100 years. Since its introduction at the 1904 World's Fair in St. Louis, Missouri, French's Mustard has been adding flavor to America's favorite sandwiches and recipes—without adding any fat. French's® Mustard is available in Classic Yellow®, Honey, Honey Dijon, Spicy Brown, and Horseradish flavors.