WRAPS: CHICKEN PHYLLO WRAPS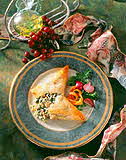 Yield: Makes 12 servings.
Ingredients
• Vegetable cooking spray
• 1 pound ground chicken
• 1 cup chopped fresh mushrooms
• 1 medium onion, chopped
• 3 cups cooked rice (cooked without salt or fat)
• 1 cup nonfat low-salt ricotta cheese
• 1 10-ounce package chopped spinach, thawed and well drained
• 1 2-1/4-ounce can sliced black olives, drained
• 1/4 cup pine nuts, toasted*
• 2 cloves garlic, minced
• 1 teaspoon ground oregano
• 1 teaspoon lemon pepper
• 12 phyllo dough sheets

Directions
Coat large skillet with cooking spray; place over medium-high heat until hot. Add chicken, mushrooms and onion, cook 2 to 4 minutes until chicken is no longer pink and vegetables are tender. Reduce heat to medium.

Add rice, ricotta cheese, spinach, olives, nuts, garlic, oregano and lemon pepper; cook and stir 3 to 4 minutes until well blended and thoroughly heated.

Working with 1 phyllo sheet at a time, spray 1 sheet with cooking spray; fold sheet in half lengthwise. Place 3/4 to 1 cup rice mixture on one end of phyllo strip. Fold left bottom corner over mixture, forming a triangle. Continue folding back and forth into triangle at end of strip. Repeat with remaining phyllo sheets and rice mixture. Place triangles, seam side down, on baking sheets coated with cooking spray. Coat tops of each triangle with cooking spray. Bake at 400 degrees 15 to 20 minutes or until golden brown. Serve immediately.

*To toast nuts, place on baking sheet. Bake at 350 degrees 5 to 7 minutes or until lightly browned.

Nutrition Facts
Calories 219 Total Fat 6g
Cholesterol 27mg
Sodium 224mg
Total Carbohydrate 25g
Dietary Fiber 1g
Protein 12g
USA Rice Federation (www.usarice.com)