GRILLED PORK AND GOAT CHEESE CROSTINI
Serves 4.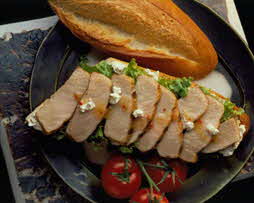 • 4 boneless pork chops, 3/4-inch thick
• 12-inch loaf French bread, halved lengthwise and cut into 2 6-inch pieces
• 2 teaspoon olive oil
• 4 ounces garlic-and-herb flavored goat cheese
• 2 tablespoons fresh oregano
• 1 cup shredded iceberg lettuce
• 1/4 cup Italian salad dressing

Cooking Directions
Prepare a medium-hot fire in kettle-style grill, banking coals.
Grill chops directly over heat for 3-4 minutes on each side.

Thinly slice pork chops across grain, cover and keep warm.

Brush cut side of bread with olive oil, grill bread cut side over coals, about 45 seconds, to brown.

Spread 1 ounce goat cheese on each toasted bread slice and sprinkle with oregano.

Return bread to grill, cheese side up, away from fire. Cover grill for 2-3 minutes, until cheese is heated through.

Place bread on serving plates; top cheese with lettuce and then with slices of pork.

Drizzle with dressing and serve with knife and fork.

Wine suggestion: Pour a medium-bodied red like a Pinot Noir.
Serving Suggestions
This knife-and-fork sandwich can be the centerpiece of an elegant summer luncheon. Serve with assorted pickles, cherry tomatoes, melon wedges and fresh grapes.
Nutrition Facts
Calories 410 calories; Protein 31 grams; Fat 16 grams; Sodium 780 milligrams; Cholesterol 65 milligrams; Saturated Fat 7 grams; Carbohydrates 34 grams
Recipe and photo courtesy of National Pork Board.
For more information about The Other White Meat, visit TheOtherWhiteMeat.com