MANGO PORK FAJITAS WITH CHIPOTLE SOUR CREAM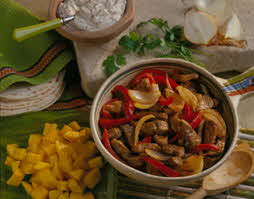 Serves 4.
• 1 pound pork tenderloin, cut into 1/2-inch thick strips
• 2 teaspoons purchased taco seasoning mix
• 2 teaspoons oil
• 1/2 medium onion, sliced
• 1 small red bell pepper, seeded and sliced
• 1 cup fresh ripe mango chunks
• 4 flour tortillas, warmed*

• 1 cup light sour cream
• 2 teaspoons minced canned chipotle chiles in adobo sauce
• 1/4 cup minced fresh cilantro
• 1 garlic clove, minced

Cooking Directions
Toss pork strips with taco seasoning to coat evenly. Heat oil in large nonstick skillet over medium-high heat; add pork strips, onion and pepper to skillet; stir-fry for 3-5 minutes.
Divide pork mixture and mango chunks into four equal parts; roll up in warmed tortillas.
Serve with Chipotle Sour Cream.

Chipotle Sour Cream: In medium bowl, combine sour cream, chipotle chiles, cilantro and garlic; mix until well blended. Cover and refrigerate several hours to let flavors marry.

* To warm tortillas, wrap loosely in kitchen towel. Microwave on High power for 30-40 seconds.

Serving Suggestions
Fajitas with a fruity twist. Make the sour cream the day before so the flavors can marry. To easily slice tenderloin, wrap in plastic wrap & place in freezer for 30-45 minutes.

Nutrition Facts
Calories 430 calories; Protein 33 grams; Fat 14 grams; Sodium 480 milligrams; Cholesterol 95 milligrams; Saturated Fat 6 grams; Carbohydrates 42 grams

Recipe and photo courtesy of National Pork Board.
For more information about The Other White Meat, visit TheOtherWhiteMeat.com