WRAPS, FIESTA WRAPS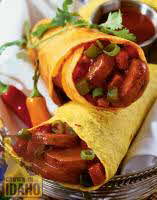 Yield: 4 servings
INGREDIENTS:
• 3 Idaho potatoes (about 1 1/4 lbs. total), scrubbed
• 1 tablespoon olive oil
• 1 medium onion, chopped
• 2 cloves garlic, minced
• 1 small red pepper, chopped
• 1 small green pepper, chopped
• 3 slices favorite deli meat, sliced 1/4-inch thick (total of 12 oz.)
• 3/4 cup favorite bottled taco sauce
• 6 oz. pepper-jack cheese, shredded
• 8 eight-inch (burrito-sized) flour tortillas
• 2 green onions, chopped (optional garnish)

DIRECTIONS:
1. Over medium-high heat, bring a large saucepan of water to boil. Meanwhile, half potatoes lengthwise, then chop each half in 1/4-inch slices. Place potatoes in boiling water; cook 5-6 minutes, or until tender yet firm; drain and set aside.

2. Coarsely chop the deli meat and set aside

3. Over medium-high heat, in a medium stock pot, heat olive oil; add onion and garlic and cook, stirring, 1-2 minutes. Add peppers and cook, stirring, another minute (or longer, if softer peppers are preferred). Remove pan from heat.

4. Add potatoes, meat and taco sauce to the pot; stir well to combine.

5. Warm tortillas according to package directions. Place a scant cup of the potato mixture into the center of one warm tortilla; sprinkle with some of the shredded cheese. Roll up the tortillas, folding in one end to keep the filling inside. Garnish with chopped green onions, if desired. Repeat with remaining tortillas, filling and cheese.

Approximate nutritional analysis per serving:
395 calories, 18 g fat, 45 mg cholesterol, 905 mg sodium, 17 g protein, 41 g carbobydrates
(does not include optional ingredients)
Idaho Potato Commission: www.idahopotato.com