TURKEY & BALSAMIC ONION QUESADILLAS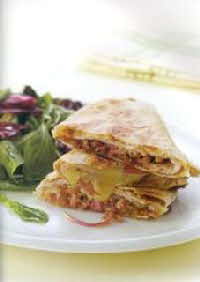 Reprinted from The EatingWell Healthy in a Hurry Cookbook:
150 Delicious Recipes for Simple, Everyday Suppers in 45 Minutes or Less by Jim Romanoff and the Editors of EatingWell Magazine
Makes 4 servings.
Active Minutes: 15
Total: 20 minutes
Soaking onions in balsamic vinegar brings out their sweetness. Just don't use an expensive aged balsamic for this quick treat. To make these easy tortilla sandwiches into a meal, serve them with simple sautéed vegetables or a tossed green salad.
• 1 small red onion, thinly sliced
• 1/4 cup balsamic vinegar
• 4 10-inch whole-wheat tortillas
• 1 cup shredded sharp Cheddar cheese
• 8 slices deli turkey, preferably smoked (8 ounces)

1. Combine onion and vinegar in a bowl; let marinate for 5 minutes.
Drain, reserving the vinegar for another use, such as salad dressing.

2. Place 2 tortillas in a large nonstick skillet over medium-high heat (they will overlap); warm for about 45 seconds, then flip.

Pull the tortillas up the edges of the pan so they are no longer overlapping.
Working on one half of each tortilla, sprinkle one-fourth of the cheese, cover with 2 slices of turkey and top with one-fourth of the onion.
Fold the tortillas in half, press gently with a spatula to flatten and cook until the cheese starts to melt, about 2 minutes.
Flip and continue cooking until the second side is golden, 1 to 2 minutes more. Transfer to a plate and cover with foil to keep warm.

Make two more quesadillas with the remaining ingredients. Serve warm.

Per Serving: 261 calories; 10 g fat (5 g sat, 0 g mono); 56 mg cholesterol; 25 g carbohydrate; 23 g protein; 2 g fiber; 702 mg sodium.
Nutrition Bonus: Calcium (22% daily value), Magnesium (12% dv).
Healthy Weight
Copyright © 2006 by Eating Well, Inc.