STEAK WRAPS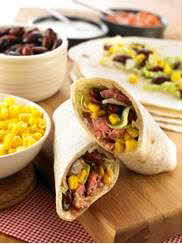 A Canned Food Week UK recipe. Fast-fix Friday, with SaveTheStudent.org.uk. With exams and coursework to concentrate on, along with the odd night out, students often look for quick and easy meals to make in a hurry. Steak Wraps are the perfect option, as they only take 15 minutes to make. The great thing about canned food is that it's ready to eat from the can, so you can add a can of sweetcorn and kidney beans to this delicious recipe and away you go. Plus, the recipe is so versatile – you can swap steak with chicken, or even Quorn.
Serves: 4
Preparation Time: 10 minutes
Cooking Time: 5 minutes
Ingredients
· 400g sirloin steak, cut into thin strips
· 1 Tbsp oil
· Seasoning
· 8 x tortilla wraps
· ½ small iceberg lettuce, shredded
· 198g can sweetcorn, drained
· 300g can red kidney beans, rinsed and drained
· 200g pot tomato salsa
· ½ a pot of 300ml soured cream
Method
• Drizzle steak with oil and season.

• Heat a griddle pan or frying pan until hot and then stir –fry steak for 3 minutes or until cooked.

• Warm tortilla wraps.

• Scatter each wrap with lettuce, sweetcorn and kidney beans. Add steak and dollops of salsa and soured cream. Fold and roll. Slice diagonally in half if required. Serve immediately.
Hints and Tips
Alternatively use chicken breast. Adjust cooking times accordingly.
Nutrition Information (per wrap)
· Calories: 496
· Protein: 35.0g
· Carbs: 53.0g
· Sugars: 6.0g
· Fat: 18.0g
· Sat Fat: 7.0g
· Fibre: 5.0g
· Sodium: 471.0mg
Canned Food UK will be running the 2nd Canned Food Week April 14-20, 2014. (www.cannedfood.co.uk/cannedfoodweek)