MAPLE CHIPOTLE BARBECUE SAUCE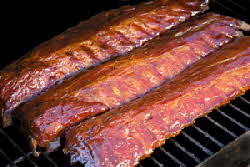 Smoky and sweet, this classic barbeque sauce makes the ultimate barbeque ribs. This sauce is also great on shredded chicken and pork.
• 4 Tablespoons Vegetable Oil
• 2 Onions, minced
• 8 Garlic cloves, minced
• 8 Canned chipotle peppers, packed in adobo, seeded and minced
• 1 Cup Ketchup
• 1 Cup Maple syrup
• 4 Cups Chicken broth
• 1/2 Teaspoon Ground allspice
• 4 Tablespoons Fresh lemon juice
• Salt and freshly ground black pepper


Heat the oil in a large sauce pan over medium heat until shimmering.

Add the onion and sauté until golden brown.

Add the garlic and cook just until fragrant.

Stir in peppers, ketchup, maple syrup, chicken broth and allspice and bring to a simmer.

Season to taste with salt and pepper and continue to simmer until thick and shiny.

Stir in lemon juice and remove from heat.

This sauce will keep for up to one month if tightly covered and refrigerated.

In New England, Québec, and extreme eastern Ontario, city slickers often travel to sugar houses, or in Québec cabanes à sucre in early spring to enjoy rustic maple-syrup based meals. In a similar, albeit far more luxurious tradition, each spring guests of the BALSAMS Grand Resort Hotel in Dixville Notch, NH enjoy Executive Chef Larry Johnson's delicious maple creations. Recently voted the #1 for food in the United States by the readers of Condé Nast Traveler, for the first time The BALSAMS is releasing its Maple Chipotle Barbecue Sauce recipe just in time for spring.
www.TheBalsams.com