Weddings at the Great American Beer Festival
Saint Arnold Brewing Company to Open 'Chapel' and Perform Nuptials on GABF Floor
August 28, 2013 – Since nobody can bring the largest collection of U.S. beer ever served to their wedding, Saint Arnold Brewing Company, the oldest craft brewery in Texas, is bringing the wedding to the Great American Beer Festival (GABF). Saint Arnold plans to construct a chapel at its booth at this year's GABF and has put out the call for couples who would like to make a lifetime commitment while experiencing the premier U.S. beer festival.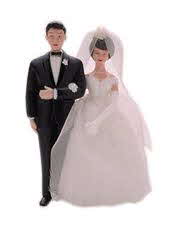 A Saint Arnold employee who has officiated weddings in the past will preside over the nuptials dressed as Saint Arnold of Metz, the patron saint of brewers.
"One of my favorite toasts is, 'May your heart always be full and your glass never empty,' and I expect to hear that toast a lot at the GABF weddings," said Saint Arnold Director of Marketing and Events, Lennie Ambrose. "Saint Arnold is closely associated with the legend of the miraculous mug that never ran dry, so I expect he will be right at home at GABF."
Saint Arnold is scheduling weddings between 5:30 p.m. and 10:00 p.m. on Thursday October 10th through Saturday October 12th in booth number 134. Saint Arnold will also perform civil ceremonies and vow renewals.
"This will be a lot of fun and we expect there will be no shortage of people taking advantage of this once-in-a-lifetime opportunity to share the love with thousands of fellow craft beer enthusiasts," said Ambrose. "While it is a relatively simple process to get married in Colorado, a Colorado marriage license is required, so this will require a little planning for those wishing to wed. Fortunately, the Denver Office of the Clerk and Recorder, which provides marriage licenses, is conveniently located within four blocks of the chapel we're planning to build at GABF."
According to experts with TheKnot.com, Wedding.com and others, craft beer has been a leading trend in weddings this year. More couples are carefully choosing the beer offered at their wedding reception to pair with foods served, adding beer tasting stations, printing custom labels or brewing their own beer for the special day. In fact, the recipe for Saint Arnold Icon Green – an Amarillo hefeweizen – was inspired by a brewer's wedding gift for his sister and brother-in-law to be.

For more information about getting married by Saint Arnold at GABF, visit www.saintarnold.com/gabfwedding/

About Saint Arnold Brewing Company
Saint Arnold Brewing's seven year round beers, seven seasonal beers and three special release lines are made and sold by the company's staff of 50 dedicated employees. Ranked 45th on the Brewers Association list of top craft breweries, Saint Arnold was listed by USA Today as one of the "10 great places to see what's brewing in beer," and Smart Meetings magazine named it among the "Top 5 breweries to host an event." Saint Arnold is located at 2000 Lyons Avenue and its brewery tour and tasting is offered every weekday at 3:00 P.M. and Saturdays starting at 11 A.M. For more information on Saint Arnold's five year-round and five seasonal beers as well as root beer, log on to www.saintarnold.com