The Wild Georgia Shrimp Festival to Celebrate Iconic Southern Dish
Shrimp and Grits…It's Not Just for Breakfast Anymore
Shrimp & Grits Festival
September 18-20, 2009
It is often said that "food is love." If true, it must mean that we Americans love…a lot. We certainly love the Italians, for giving us comforting pasta dishes and Friday night pizzas. We adore the French for sharing their delicate pastries and their impeccable soufflés. Pad Thai and sushi simply make us mad about Asian food. But what exactly is it that we love about American cuisine?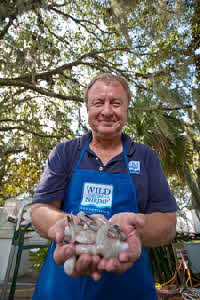 Some might cry, "fried chicken and mashed potatoes" while others mention the hot dog or classic hickory BBQ. Then there is a favorite, seemingly forgotten, cherished and remembered by southerners. It is what some might call "trendy," while coastal dwellers just call it "classic." Enter the beloved dish, shrimp & grits, a chic twist on classic American charm.

The name alone is soothing and mouth-watering. What could be better than combining the creamy breakfast favorite with savory shrimp? Clearly nothing, because this meal continues to pop up on menus across the country and has famed chefs competing for the best recipe rendition.

Those that live above the Mason Dixon line might look down upon grits. How many times have we overheard a coastal visitor assert grits "have no flavor" or "taste like sandpaper?" Maintaining the polite demeanor we were raised upon, we purse our lips, refrain from creating a scene and think quietly, "they just don't know what they're missin'."

Grits truly were one of the first American foods. Even before the settlers' arrival, the Native Americans dined on softened, mashed corn. The dish was very similar to what we enjoy today, minus the large amounts of cream, butter, flavored stock and seasonings that make them characteristically modern and quintessentially southern.

Historically, the closest recipe relative to shrimp & grits as we know it was served as a simple fisherman's breakfast in Carolina's Low Country. Known as "breakfast shrimp," the recipe was made with shrimp cooked in a bit of butter or bacon grease and poured on top of creamy, cooked grits. Now we're talkin'.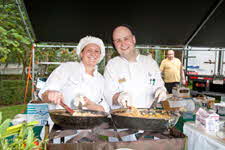 In 1985, Craig Claiborne wrote for an article for the New York Times that was shrimp & grits official "coming out party." For the next quarter of a century the finest chefs fought to make the dish their own by adding andouille sausage, scallions, spices, a variety of cheeses and serving it throughout the day. Ladies and Gentlemen, shrimp & grits is not just for breakfast anymore.

In fact, shrimp & grits are so popular they are popping up on more restaurant menus than ever before. With all of this love in mind, who wouldn't want to enjoy an entire weekend dedicated to savoring and celebrating shrimp & grits? This year, the Jekyll Island Authority and the Georgia Tourism Foundation invite shrimp & grits lovers everywhere to commemorate the flavorful history that the iconic dish represents. "Shrimp & Grits: The Wild Georgia Shrimp Festival" kicks off on Friday, September 18th with a $3 "Shrimp Sample Night" when local Island restaurants like Halyards, Tramici, Southern Soul BBQ, and the Jekyll Island Club Hotel will be serving up their version of shrimp & grits.

The popular festival is eagerly anticipated by southerners across the region and is full of great offerings that are fun for the whole family. The weekend-long event features local artwork, crafts booths, free entertainment, boating excursions, VIP Packages, a Shrimp & Grits Consumer Choice Panel, a BMX Bike Show, a Frisbee Dog Show, and a Shrimp Eating Contest. There will also be an Amateur Shrimp & Grits Contest on Saturday as well as cooking demonstrations by Chef Joe Randall from Savannah and the Winn-Dixie Chef, Chef Robert, from Jacksonville. The events continue through Sunday with a Professional Cooking Competition when Caterers and restaurants alike, including Southern Soul BBQ, Purple Sage, Blackwater Grill and more, will be competing for the grand prize. The competition takes place on Sunday at 11:30 am featuring entertainment by the popular "Big Dawg and Paul Show."
Enjoy the fun and festivities. Most of all, enjoy shrimp & grits. For Southern food writer John Egerton said it perfectly in his book, Side Orders. "After a bowl of grits, we half expect to find the day brighter, the load lighter, the road straighter and wider." Now, top that bowl of grits with shrimp, and just call it heaven.