SYDNEY'S NEW INTERNATIONAL FOOD FESTIVAL
Part of 'Crave Sydney' - 31 Days of Food, Outdoor Art & Fun
See also: Breakfast on the Bridge
The Sydney, Australia International Food Festival (1-31 October)
The Sydney International Food Festival, presented by Citi, may have replaced the highly popular Good Food Month but it's still all about good food, and the highlights are almost too numerous to list. There are at least 450 events for 2009 – a huge increase on last year.

The Sydney International Food Festival will bring together Sydney's biggest names in food as well as top chefs from around the world. There will be dinners and markets, street fiestas and the finest fine dining. "It's going to be quite a month come October," says Festival Director, Joanna Savill. "We'll do lunch, we'll do brunch, we'll do Sunday roasts and we'll sip the Cocktail of the Month at close to three dozen bars. Kids will tie on aprons to make everything from cupcakes to samosas and sample the new Week of Tastes restaurant menus."

"We'll take to the streets all over Sydney, to explore the flavours of our many food 'villages' at festivals and markets. We'll look at where our food has come from, and what its future holds – in talks and forums on sustainability and food security. And we'll discover regional produce and wines at 100 Mile lunches and dinners around the State."

The Festival will launch to the public on Saturday October 3 with a Nose-to-Tail barbecue at the Sydney Morning Herald Growers' Market and guest chef Fergus Henderson from London's St John restaurant. There will be other barbecues across Sydney that day too - at Cabramatta, Parramatta, Taronga Zoo and Taylor Square (as part of the City of Sydney's Art and About).

The "food villages" and precincts of greater Sydney will also come alive during the new month-long Festival. This new program is part of Festival Director Joanna Savill's vision for community-based dinners, tours and markets, highlighting the exciting diversity of food experiences to be found in Sydney's vibrant precincts and "villages".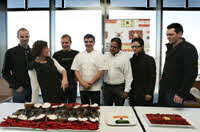 Another major highlight of the Sydney International Festival will be the World Chef Showcase weekend (10-11 October), presented by Star City and Etihad. The weekend will be the biggest global food gathering Sydney has ever seen, assembling the very best and most interesting chefs from around the world. While there is a predominant focus on Asia, the net has been cast as far as the south of France.

It will be the first time Sydney has assembled such a stellar cast all on one weekend. A ticket to The World Chef Showcase will secure the chance to see an amazing line-up of international and top Australian chefs in action. Covering cuisines from Thailand / Vietnam, China, World, Asia, Japan and 'creative', the chefs will be demonstrating signature recipes (as included in the Showcase program) and discussing their food philosophies. There will be book signings and product tastings as well as morning and afternoon tea, a wonderful lunch at Sean's Kitchen, drinks and desserts. Tickets for the World Chef Showcase are on sale at www.ticketmaster.com.au.

Taking part in the World Chef Showcase will be stars from Sydney and Australia including Neil Perry (Rockpool), Kylie Kwong (Billy Kwong), Peter Gilmore (Quay), Cheong Liew (The Grange, Adelaide Hilton), Martin Boetz (Longrain) and Luke Nguyen (Red Lantern). They will join forces with our overseas guests including Sebastien Bras (France, The Bras Restaurant - 3 Michelin stars), Sergi Arola (Madrid, Gastro - 2 Michelin stars) and Alvin Leung (Hong Kong, Bo Innovation - 2 Michelin stars) to name a few.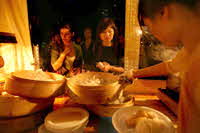 Other highlights for Sydney International Food Festival will include Good Food Month favourites such as Hats Off, and Let's Do Lunch Added to this will be a Barbecue Madness Launch weekend. The founder of the inspiring international Slow Food movement, Carlo Petrini, will speak at the Sydney Opera House (Oct. 18). The Night Noodle Markets return, bringing an authentic Asian-inspired hawker market to the CBD for two weeks.

Sydney International Food Festival part of Crave Sydney, a major new celebration of Sydney, Australia's unmatched way of life, offering 31 days of food, outdoor art and fun. Crave Sydney is one of five anchor events in the NSW Master Events Calendar created by Events NSW on behalf of the NSW Government in Australia.