BREAKFAST ON THE BRIDGE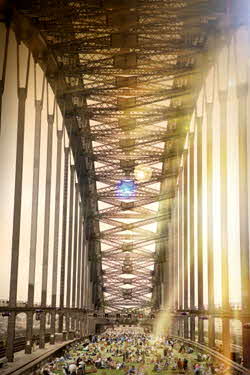 Breakfast Destination: Sydney, Australia Harbour Bridge
Crave Sydney…with a "Breakfast on the Bridge" October 25 - a Free Event

Crave Sydney will run throughout October and include a range of food, entertainment, art, comedy and music events.
See also: Sydney International Food Festival

• The centrepiece of the new festival will be 'Breakfast on the Bridge' – an event which will see Sydney Harbour Bridge transformed into the worlds most sought after breakfast destination.

• Sydney Harbour Bridge will be closed for traffic and opened for breakfast.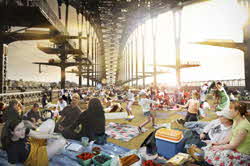 • 6,000 lucky people will have the chance to enjoy a once-in-a-lifetime experience on one of Australia's most iconic landmarks.

• As part of the event the roadway of the bridge will be covered, transforming Australia's most recognisable roadway into our newest harbour foreshore.

• Images from 'Breakfast on the Bridge' will be beamed around the world, showcasing again why Sydney is Australia's number one destination.

• 'Breakfast on the Bridge' will be an iconic Sydney event – one which tourists will want to be a part of and will deliver real benefits to the local economy.

• The fact is, no city in the world can offer what Sydney can - a beautiful spring sunrise overlooking the world's most beautiful harbour.

• All residents of NSW will have the chance to enter a draw to be one of the 6,000 lucky participants.

• Breakfast on the Bridge is presented by the NSW Government and is part of Events NSW strategy to make Sydney and NSW Australia's leading events destination.

(Note: Photos are artists renderings)