Porkapalooza Invitational Cookout & Music Festival
Celebrate the Bounty of the Great Lakes
(Fennville, Mich) – A day-long celebration of hog-proportion once again takes over the 14-acre Red Horse Ranch in Fennville on Saturday, October 3, 2009 to benefit Saugatuck Dunes Coastal Alliance. The PORKAPALOOZA Invitational Cookout & Music Festival is a farm party and harvest celebration, running from Noon to Midnight (rain or shine), showcasing the bounty of the Great Lakes' in terms of food, drink, music, art and land. Red Horse Ranch is located just outside of downtown Fennville, on 62nd Street, ¾ of a mile south of M89.

The Invitational Cookout portion of the festival features well-known chefs from throughout the Great Lakes Region, including:
• Chef Chris Pandel from The Bristol, Chicago www.thebristolchicago.com
• Chef Matt Pietsch - Salt of the Earth, Fennville www.saltoftheearthfennville.com
• Chef Rob Hammond from Food Dance Café, Kalamazoo www.fooddancecafe.com
• Chef Matthew Millar - New Holland Brewing Co., Holland www.newhollandbrew.com
• Chef Chad Miller from Restaurant Bloom, Grand Rapids www.bloomgr.com
• Chef Joel Wabeke - six.one.six at the JW Marriott, Grand Rapids www.jwgr.com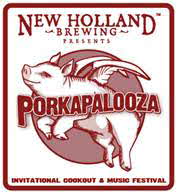 "These chefs were hand-selected to participate in the PORKAPALOOZA Invitational Cookout because they share a common interest in the pursuit of culinary quality and a belief in championing local, sustainable lifestyles," says Fred Bueltmann, Beervangelist at New Holland Brewing.

Each restaurant is asked to showcase at least one primary pork dish, as well as two regionally-influenced side dishes providing sourcing information that demonstrates the technique and provenance of their food.

The event will shine a light on some of the areas treasures, including not only the products available, but the creative energy of many local artisans and musicians. Well over 1000 people are expected to attend and organizers proudly practice earth-friendly ideals, showcasing the realities of sustainable living and entertaining.

Local beers and wines from New Holland Brewing Company and Fenn Valley Winery will make for pleasing pork pairings. Taste many new Holland brews, including the event's signature beer – Charkoota Rye: a smoked rye dopplebock brewed to celebrate PORKAPALOOZA and the art of charcuterie. Other featured brews include Mad Hatter IPA, Ichabod Pumpkin Ale, Brother Jacob Dubbel, Oak Aged Hatter, The Poet and Dragon's Milk barrel-aged ale. Fenn Valley, which is located adjacent to the fest site and is a sponsor of the event, will serve a selection of their favorite award-winning red and white wines.

Throughout the day, an impressive back-to-back line-up of entertainment will keep the toes tapping, including:
• Various David Teske
• 1:00pm Dave Boutette (www.myspace.com/daveboutettemusic)
• 2:00pm Delilah DeWylde & The Lost Boys (www.myspace.com/delilahdewyldeandthelostboys)
• 3:00pm HOG CALLING COMPETITION
• 3:30pm Ben Bueltmann & Pontchatrain (www.myspace.com/benbueltmann)
• 4:30pm Mark Duval & Two Track Mind (www.duvalmusic.com)
• 6:30pm Mountain Men (www.myspace.com/mrmatmountainmen)
• 8:00pm Midtown Underground (www.midtownunderground.com)
Blankets, chairs and water coolers are welcome. The event is held in a grass field, so sturdy shoes are recommended. Guests are not allowed to bring food or alcohol into the event. All ages are welcome, but guests 21 and older will need to show ID to receive a wristband to consume alcohol. Special activities are also planned for the younger attendees.

Tickets are available now for PORKAPALOOZA 2009 and are $8 per person in advance ($12 the day of) with parking at $5 per car. Admission includes access to the unlimited live entertainment. Food and beverages are sold separately. Admission tickets are available online at http://pork.newhollandbrew.com or by visiting New Holland Brewing and other vendors to be listed on the website.

For more information about PORKAPALOOZA, contact New Holland Brewing at 616-355-NHBC.