See also: Louisiana Festivals
New Orleans "Big Gateaux Show" 2012 Winner
It's A Cakewalk For Pastry Chef Bronwen Weber
New Orleans, Louisiana (May 29, 2012)
Pastry Chef Bronwen Weber of Frosted Art Bakery & Studio in Dallas won the $5,000 grand prize, sponsored by Valrhona Chocolate, at The Big Gateaux Show at the 20th Anniversary of the New Orleans Wine & Food Experience on Friday, May 25th, 2012. The Big Gateaux Show, an international cake competition and tasting, featured invited pastry chefs Vanessa Fiorini of Toronto, Canada; Solandie Exantus of the Royal Sonesta Hotel New Orleans; Gonzalo Jimenez of the Hyatt Regency in New Orleans, assisted by Deborah Heyd of The Roosevelt in New Orleans; along with Weber. Each pastry chef, with the assistance of several Delgado Culinary School students, created their own signature version of an anniversary cake inspired by the Burlesque Era of New Orleans and paired with Champagne Nicolas Feuillatte.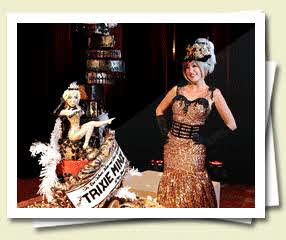 The Big Gateaux Show Winning Cake by Pastry Chef Bronwen Weber of Frosted Art Bakery & Studio in Dallas, Texas pictured with Cake Inspiration Trixie Minx of Burlesque Beauties in New Orleans.
Weber's cake, a black and butter bourbon praline flavored cake inspired by Trixie Minx, producer of New Orleans' popular Fleur de Tease and Burlesque Ballroom shows, featured a confection version of Minx with her leg kicked playfully in the air. Each cake entry was inspired by one of the "Beauties from Burlesque Ballroom."

The Big Gateaux Show
conceptualized by Tariq Hanna, executive chef and co-owner of Sucré, was co-hosted by Johnny Iuzzini, head judge of Bravo's "Top Chef Just Desserts" and the James Beard Award-winning pastry chef of Jean Georges restaurant in New York. Ron Ben-Israel of Food Network's Sweet Genius and judge of many Top Chef competitions served as lead judge and was joined by Lee Brian Schrager, Founder and Executive Director of the South Beach and New York City Wine & Food Festivals; Chris Hanmer, World Champion Pastry Chef and winner of Top Chef Desserts, Season 2; and Denise Mickelsen, senior editor of Fine Cooking Magazine. The judges critiqued the cakes on taste, color movement, execution, technique, imagination and presentation of the NOWFE 20th anniversary. In addition, the chefs were judged on the use and tutelage of their culinary students while preparing their showpiece and tasting cakes.

Pastry Chefs Jimenez and Heyd were honored with the People's Choice Award, which was voted as the favorite by the attendees of the 20th Anniversary Celebration Party held at the Royal Sonesta Hotel, located on historic Bourbon Street in New Orleans. The people's choice cake, inspired by Madame Mystere, was a butter vanilla cake with dulce de leche buttercream and dark chocolate ganache.
The New Orleans Wine & Food Experience is a non-profit organization. The Board of the New Orleans Wine & Food Experience donates 100% of the events' profit to support their programs and foundations. In an effort to fight hunger and support culinary education, the 2012 beneficiaries will share 100% of the proceeds. Second Harvest Food Bank of Greater New Orleans and Acadiana will receive 40% and the following will share the remaining 60%: the Louisiana Restaurant Association Education Foundation's ProStart Program, Delgado Culinary Arts School, New Orleans Center for the Creative Arts' Culinary Program, the John Folse Culinary Institute and the Edible Schoolyard New Orleans.