Bob's Red Mill Only U.S. Competitor in Scotland's 2009
16th Annual "Golden Spurtle" World Porridge Making Championship
Portland-based whole grains company will compete for the world's finest oatmeal title
9/17/2009 – With their Myrtle Spurtle, pear liquour and brûlée-topped oatmeal, Team Bob's Red Mill from the USA is ready to do what no American company has ever tried before – wrest the Golden Spurtle away from the Scots. Known for its whole grain products, Bob's Red Mill Natural Foods will take on the world's best oatmeal makers when they compete in the 16th Annual "Golden Spurtle" World Porridge Making Championship in the small Scottish Highland village of Carrbridge, Inverness-shire, Scotland on October 11, 2009.

The first (and only) U.S. competitor to enter the international competition, Bob's Red Mill will compete for the title of World Porridge Making Champion, which is awarded to the chef who produces the best traditional porridge using oatmeal, water and salt. Bob's Red Mill will also compete in the Specialty Porridge category with its Oregon Orchard Oat Brûlée: an Oregon-themed oatmeal recipe that features Bartlett pears, dried cherries, hazelnuts and Pear Eau de Vie from Clear Creek Distillery.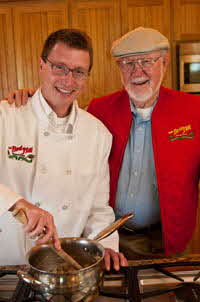 The company hopes to return home with the coveted "Golden Spurtle" trophy. A Scottish kitchen tool dating back to the 15th century, a spurtle is a rod-like stirring stick that is traditionally used to prevent porridge from becoming lumpy. Tradition also dictates that the porridge be stirred clockwise with the right hand to ward off evil spirits during cooking. Expanding on its Oregon theme, Bob's Red Mill will be competing with its own custom spurtle made from Oregon myrtle wood.

"We are honored and excited to be involved with the Golden Spurtle," said Matt Cox, Marketing Manager for Bob's Red Mill and the chef who will prepare the company's two oatmeal dishes at the competition. "And we're especially looking forward to sharing the best of Oregon flavors with this international audience."

Together with his Golden Spurtle teammate and Bob's Red Mill partner Dennis Gilliam, Matt has spent several months perfecting a recipe that captures the spirit of Oregon. Inspired by the oatmeal brûlée dishes served by Chef Mark Greco at Gravy restaurant in Portland, Ore., Oregon Orchard Oat Brûlée will include a compote of Bartlett Pears and dried cherries flambéed with Pear Eau de Vie from Clear Creek Distillery then finished with a brûlée crust.

The months of preparation will put the Bob's Red Mill team in good position against an international array of chefs who take their oatmeal very seriously. The Golden Spurtle's 2008 specialty category winner created a Marzipan porridge with Glenfiddich whiskey ice cream and vanilla-marinated stewed apples. And the traditional category champion credits his win to the water he used, which comes from a bore hole tapped 100-feet down into an underground river in Scotland.

"We're confident that we'll represent the U.S. well and we plan on having a great time in Scotland," said Gilliam. "Our Oregon Orchard Oat Brûlée recipe captures the quality of the steel cut oats from Bob's Red Mill. We're very pleased with our entry and we are really looking forward to sharing our oats with some of the world's foremost experts on the subject."

Bob's Red Mill will be sharing its experience at the Golden Spurtle with its US fans in real time through regular updates to social media channels including Twitter and Facebook; as well as stories and behind-the-scenes content on the Bob's Red Mill blog.

The Bob's Red Mill team departs for Scotland on October 7 and the competition is held on October 11.