PUBLIC INVITED TO A GINGERBREAD HOUSE CELEBRATION
Inaugural Event Set to Kick-Off Holiday Season
GETTYSBURG, PA (November 18, 2010)
Gettysburg Festival kicks off the holiday season with A Gingerbread House Celebration presented by the Historic Gettysburg Hotel, December 3-4, featuring more than a dozen exquisite, holiday-themed gingerbread houses on display and open to the public.
"It's our hope that this inaugural event becomes a cherished holiday tradition for the Gettysburg community," said Festival Executive Director Alice Estrada. "The Gettysburg Festival is quickly gaining a strong following for its culinary events, and what better way to celebrate the culinary arts in December than with a spectacular array of festival gingerbread houses?"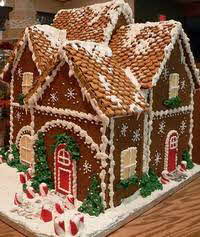 The event, a fund-raiser for the non-profit Gettysburg Festival, allows guests to purchase the gingerbread masterpieces for holiday decor, via silent bidding in person, as well as online bidding through the official Festival website at www.gettysburgfestival.com. All proceeds benefit the non-profit Gettysburg Festival.
All attendees will have the opportunity to vote for their favorite gingerbread houses with prizes being awarded to the top three. The top prize of $250 cash is sponsored by the Christmas Haus of New Oxford. Second prize is $150 cash sponsored by Judie and John Butterfield; third prize is a $100 gift card sponsored by Kennies Market. Media partner for the event is Celebrate Gettysburg magazine.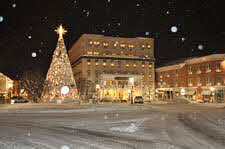 "The Historic Gettysburg Hotel is thrilled and honored to partner with the Festival, to feature amazing gingerbread house creations by generous and talented community members," said Phillip Murray, General Manager of the Historic Gettysburg Hotel, lead sponsor of the event. "This event embodies the true spirit of holiday giving."
Events on Friday, December 3 include a kickoff holiday party from 5-8 pm at the Gettysburg Hotel Ballroom. Admission is $10 which includes complimentary champagne, hor d'oeuvres, entertainment by the Gettysburg High School String Ensemble, and the first opportunity to view all of the gingerbread houses and place bids. A cash bar, featuring the event's signature gingerbread martini cocktail, will be open.
Festivities from 10 am- 2pm on Saturday, December 4 are geared toward the entire family and include free admission, refreshments, entertainment by the Gettysburg Children's Choir from 11-11:30, free face painting by artist Tony Messano, as well as a Children's Gingerbread Workshop ($15). Each participating child will be able to create and embellish a gingerbread house to take home for holiday display. Pre-registration is suggested but not required.
Taking place throughout historic downtown Gettysburg, the Gettysburg Festival celebrates American arts, culture and cuisine. Slated for June 10-19, 2011, the 4rd Annual Gettysburg Festival will feature mix of world-class artists as well as innovative emerging artists in a variety of genres and venues. For additional information, check www.gettysburgfestival.org or call 717-334-0853.