North Fork Horseradish Festival Kicks Off Spring Season
(Riverhead, NY)
The North Fork Horseradish Festival will be taking place Saturday, April 12, 2014 at the Hallockville Museum Farm located at 6038 Sound Avenue in Riverhead, NY from 11am-5pm. Kicking off the Spring season with all things horseradish-contests, demonstrations, shopping and more-the event promises to be fun for the whole family.
The North Fork Horseradish Festival will host a horseradish soup contest, horseradish sauce/dip contest and, a highly anticipated, "Bloody Mary" contest.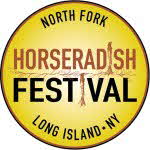 Demonstrations will include cooking with horseradish and how horseradish is made. An egg hunt, potato sack race, and 'Build Your Own Mr. Potato Head' workshop will be conducted for the children. Live music will be provided, and the museum's friendly livestock will be on display. Attendees can also take a tour of Hallockville's historic campus to learn more about the culture of this Long Island landmark. Food and drinks will be available for purchase.

Horseradish has a long history on the east end of Long Island, which is one of the many reasons the festival organizers, Starfish Junction Productions, are bringing the North Fork Horseradish Festival to Riverhead. Several years ago, a horseradish 'party' began as a small, informal gathering of local friends and family who spent hours peeling, chopping and grinding fresh bushels of horseradish root together. As the years passed, a growing number of people joined in on the festivities resulting in hundreds attending the party in 2012 at one of the local wineries.

"We are excited to expand upon the efforts of the horseradish aficionados who started the party years ago. By producing the North Fork Horseradish Festival, we will continue the tradition of celebrating and making horseradish with an afternoon full of fun, history and horseradish," stated Event Manager Nora Donnelly.

Tickets for the North Fork Horseradish Festival will be sold for $20 each and include admission to the festival, free programming, and activities/contests. Children under the age of 12 are admitted free. A portion of proceeds will go to preserve the agricultural heritage and historic sites of the Hallockville Museum Farm. Tickets are available for purchase online at NoFoHorseradishFest.com, and will also be available at the event (if not sold out).