See also: Complete PENNSYLVANIA Food Festival Listings
EXQUISITE CULINARY EVENTS PLANNED FOR
5TH ANNUAL GETTYSBURG FESTIVAL
Former White House Chef Returns to Design Culinary Lineup
Gettysburg, Pennsylvania: Garden-fresh cuisine and a farm-to-table philosophy play central roles in Gettysburg Festival's 2012 lineup featuring seven exquisite events ranging from the elegant White House Dinner to the casual Blues, Beer & BBQ. All are designed by former White House Chef Walter Scheib, the Festival's Artistic Director for Culinary Events.

"Gettysburg Festival is perfectly located, surrounded by some of the best agricultural products in the country," said former White House Chef Walter Scheib, Festival Artistic Director for Culinary Events. "Culinary trends come and go, but one thing that remains constant is a common sense approach to food using a farm-to-table philosophy. Whether we're offering a gourmet meal or a finger-lickin' BBQ, all Gettysburg Festival culinary events rely on the fantastic, fresh products grown on Pennsylvania and mid-Atlantic farms." (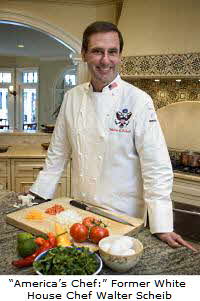 "An outstanding menu and farm-fresh ingredients are only the beginning to Gettysburg Festival's unique culinary events. Going a step further, we add live music, conversations with chefs, demonstrations by plein air painters or additional artistic components, all encompassed within a theme. Then the events becomes more than meals—they become truly unique and memorable experiences."

The 5th Annual Gettysburg Festival culinary events are presented in collaboration with the Festival's premier culinary partner, Wyndham Gettysburg and Chef Claude Rodier, including:

• Culinary kickoff event Robert Cray Band & VIP Experience, June 8 featuring such menu items as smoked salmon on grilled flatbread and topped with crème fraiche and caviar, plus ahi tuna paried with avocado-mango relish and lobster mac & cheese paired with green tomato chutney. Following the gourmet meal, guests receive premium-grade tickets to see 5-time Grammy award winning blues singer/guitarist Robert Cray. The entire event takes place the Festival Main Stage at Gettysburg College.

• The Festival's popular Blues, Beer & BBQ returns to the lineup on June 9 and features a menu of classic summertime favorites such as BBQ ribs with a variety of sauces. The freewheeling "Biker Billy" (Bill Hufnagle), a vegetarian Harley rider, dishes up fiery cooking demos. And the blues theme rolls on with Shemekia Copeland, heir-apparent to America's "queen of the blues" title.

• Garden Brunch: Dining Among the Vineyards features the nation's premier artisan grower, Farmer Lee Jones, at the Adams County Winery on June 10. Jones will educate guests about current culinary topics such as sustainability and good gardening practices, while guests dine directly on a hillside vineyard and enjoy a menu highlighting season artisanal products.

• Oklahoma! Featuring an Oklahoma Pie Auction & Champagne Reception, June 13, looks to the silver screen for inspiration. The classic American movie musical Oklahoma!, paired with a pie auction from top area bakers, is then topped off with a reception highlighting a Pennsylvania favorite, Dutch Apple Pie, and glasses of bubbly.

• The Edible Art Tour, in conjunction with the downtown art gallery event History Meets the Arts, June 14, features top-tier area chefs and the nation's top historical artists at every stop. Masterpieces, both edible and artistic, provide a feast for all the senses. In past years, guests have rated it one of the top events at Gettysburg Festival.

• Chocolate on Broadway, June 15, provides "a decadent chocolate reception worthy of a Broadway ovation," according to Scheib. A chocolate lover's dream, the event follows the improv theater piece Broadway's Next H!T Musical described as "hilarious!" by The New York Times.

• Scheib's signature event, the June 16 White House Dinner, is a four-course state dinner replicated from Scheib's award-winning recipes served to both the Clinton and Bush administrations in the White House. Taking place at the Wyndham Gettysburg, the elegant menu features a first course of Sesame Crusted Halibut with Red Curried Sweet Potato Soup. Each course is interspersed with Scheib's anecdotes and stories of life behind-the-scenes at the White House.

All culinary tickets are available online at www.gettysburgfestival.org or by calling the Festival office at 717-334-0853. Full menus are also available on the Festival website.

The annual 10-day Gettysburg Festival offers more than 100 events celebrating American arts, culture and cuisine. Headline events include 5-time Grammy Award winning blues singer and guitarist Robert Cray, blues singer Shemekia Copeland, Broadway's Next H!T Musical with the accompanying Chocolate on Broadway and Americana trio Red Molly. Free events include the All-American Brass Picnic, Art Market, Children's Arts Faire and History Meets the Arts downtown gallery events. Dozens of community Fringe Festival events include the Canary Cabaret, Gettysburg in Bloom garden tour and Father's Day Music & Machines. More than half of the Festival's events are free and open to the public.