2010 China International Wine & Spirits Exhibition
Wine China 2010
April 23rd – 25th, 2010
National Agricultural Exhibition Center, Beijing

WINE CHINA 2010, approved by China Council for the Promotion of International Trade (CCPIT) and fully supported by the Ministry of Agriculture of China, is organized by CCPIT Sub-Council of Agriculture in partnership with Beijing Regalland Conventions & Exhibition Co, Ltd. It will be held in Beijing National Agricultural Exhibition Center during 23rd to 25th of April, 2010.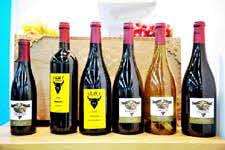 We aim to provide a face to face platform for the wine producers, distributors, retailers, consumers and others who are interested in the wine industry. Wine China will give you an effective channel to get the contacts to meet your requirement. Furthermore, it will offer an opportunity to disseminate the wine culture, popularize the wine knowledge and help to expand the wine market in China.

The Wine Market in China
China is a large emerging country with an amazing potential of wine consumption. According to latest study of IWSR (International Wine and Spirits Record), China has stepped into the top ten largest wine consumption markets in the world. With an 8%~10% growth rate of GDP, China will see a brilliant future for wine market. Nowadays, there are over 2,000 wine brands in China, according to the statistics from China customs, the annual growth rate of wine import is around 30%. In China, The growth rate of wine production is half less than that of the wine import. Without a doubt, the potential market for wine import is huge.

Why in Beijing
Beijing is well known in the world as the capital of China. It's also the center of politics, economy and culture in China. There are embassies from all over the world, various international organizations. Besides, 80% of world's top 500 brands have established a local presence in Beijing. There are over 800 hotels and 2000 restaurants including 250 western ones. As an international metropolis, Beijing is becoming the venue of more and more international conferences, activities and competitions which result in thousands of foreigners come to live or travel here. After 2008 Olympic Games, Beijing becomes more open. There has never been a more exciting or rewarding time to come to Beijing.

We're Professional and Unique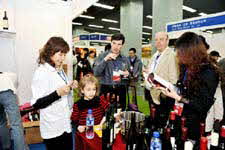 CCPIT Sub-Council of Agriculture is a sector of Ministry of Agriculture of China. Beijing Regalland Convention & Exhibition Co, Ltd has many years experience in international agriculture events. Both the two institutions have long term and good relationships with the Ministry of Commerce of China, government bodies, embassies, industry associations, commercial groups and media organizations and have the agreement to promote the wine consumption. As the professional trading promotion institution and exhibition service company, we not only provide the service including contact before the exhibition, assistance during the exhibition and research after the event, but also provide the service as wine business consultant. Our team members are all professionals in the industry. Some of them are British WSET certificate holders. We have visited top wine exhibitions, such as Vinitaly, ProWein and Vinexpo, to improve our skills in hosting high standard exhibitions.

Comprehensive Ancillary Activities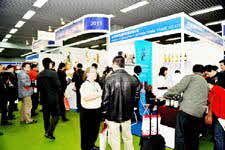 In order to make the exhibition more colorful and fruitful, we designed a series of activities to provide more opportunities for exhibitors to gain insight into the Chinese market, generate publicity, demonstrate products, overcome objections, close sales, meet new prospects, and develop relationships with your existing customers. "Wine China goes city" provides great first-hand experience and an unique and vibrant atmosphere.

These activities are:
1. Beijing Wine & Gourmet Tour
2. Beijing Wine Market & Cellar Touch Tour
3. Wine & Food Matching Workshop
4. Wine Tasting & Showing Area
5. Wine Knowledge Popularizing Training
6. Top10 customer favorite brand competition
7. Chinese Wine Market Report Meeting
8. Enterprisers' Dialogue Summit
9. Wine Tasting Meeting

Date & Venue:
Date: 23rd-25th, April, 2010 (09:00-17:00)
Venue: Beijing National Agricultural Exhibition Center
Location: No. 16 East 3rd Ring North RD, Chaoyang, Beijing

Scope of Exhibit:
~ Wine of different regions and varieties
~ Articles relating to wine culture, for example, photos, sculpture, pictures, medals, old oak barrels, books, pattern of chateau and so on
~ Wine instruments like glass, barrel, bottle, opener, wine cellar, cup, ice bucket and so on
~ Related equipment for winery, processing wine, packaging wine, transporting wine and so on
~ Books, website and organizations for wine and wine training

Visitor Profile:
1. Trade: importers, wholesalers, sales representatives and agents
2. Media: sector of wine, food, hotel and restaurant, consumption and healthy care
3. Government and associations: ministry representatives, members
4. Retail: retailers and Specialist retail chains such as Carrefour, Metro, Wal-Mart, 7/11, etc
5. Hotel & Restaurant: Food & beverage managers, wine managers and purchasers.
6. Others: wine enthusiast, wine specialist, gold-collar workers and others who interested the wine product

Review on Wine China 2009
Wine China 2009 has been successfully held on 15th – 17th, March in Beijing. There are over 5, 000 trade visitors from China and other 10 countries around China, and 30% of them are importer, agent, distributor or wine/alcohol company, 40% of them are wholesaler and Specialist retail chain, 20% of them are retailer and customers and 10% of them from hotel, restaurant, bar, media and others. 95% of exhibitors found out the business partner as they required. Wine China already became the one of the most famous wine exhibition in China.
During Wine China 2009, more importers, agents and wine lovers have joined in Beijing Wine Market & Cellar Touch Tour and Wine Tasting Meeting.

Enquiry, please Contact:
Beijing Regalland Convention & Exhibition Co., Ltd.
Tel:0086-10-64416542
Fax:0086-10-64412631
www.wineculturechina.com
E-mail: [email protected], [email protected]