6th China International Exhibition of Olive Oil & Edible Oil
OIL CHINA 2010
Agriculture & Food
Date: April 24-26, 2010
Venue: Shanghai Exhibition Center
(6th China International Exhibition of Olive Oil & Edible Oil) is fully supported by the Ministry of Agriculture and China Council for the Promotion of International Trade (CCPIT).
Event Profile
Oil China, as the only professional international exhibition of olive oil and edible oil in China, offers the most direct and efficient platform for producers, exporters, importers, distributors, dealers, and agents to meet each other and expand business in China. So far, Oil China has become the first choice for exporters to enter the Chinese market. It has attracted more than 1,000 exhibitors & Country Pavilions and 50,000 visitors all over the world. Building on the success of previous five editions of Oil China, A series of activities have been devised for Oil China 2010: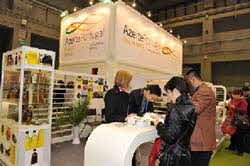 ~ Country Day (according to some Country's request)
~ 5th China International Olive Oil & Edible Oil Forum
~ 5th China International Olive Oil Competition and Awarded Olive Oil Model Show
~ 2nd China International Olive Oil & Edible Oil Gourmet Festival
~ Report Conference of Past and future 5-year Situation of Chinese Olive Oil Market
~ Buyers and Sellers Meeting (BSM)
~ Enterprisers' Dialogue Summit

Olive Oil Competition is part of Oil China 2010. Till now, over 200 companies from Italy, Spain, Portugal, Australia, Greece, Chile, Morocco, Kingdom of Saudi Arabia, Peru, Argentina, and China have participated in previous competitions.

Visitor's Profile
~ Distributors, agents, importers and traders from China and neighboring countries in the sectors of edible oil, food, health care, hotel & restaurant, gift, cosmetics, baby & infants, agedness and other related sectors;
~ Purchasers & Quality observer from department store, supermarket, food store, edible oil store and other stores;
~ CEO, Purchasing managers, cooks and chefs from restaurants, hotels, bars
~ Olive oil lovers, individual customers, experts, scholars and so on

Report about Oil China 2009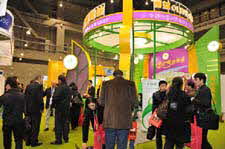 As the only and professional exhibition, 5th Oil china 2009 has attracted 95 exhibitors and about 6700 visitors from Spain, Greece, Italy, Australia, Israel, Argentina, Portugal, Tunis, Turkey, Egypt, Chile, Syria, Jordan, Peru, Saudi Arabia, Korea, China, Hongkong, Japan and so on. Besides Spanish Pavilion and Greek Pavilion, the first public presence of Portuguese Pavilion with 5 Portugal famous companies organized by Portuguese olive oil association surprised the visitors and other exhibitors, and the brilliant Pavilion designed image of Portuguese Pavilion almost caught each visitor's eyes.
Chinese Edible Oil Market

China is increasingly becoming the focus of attention of the whole world. According to the data from the customs and the forecast of related organizations, From 2002 to 2008, Chinese edible oil consumption kept an annual growth rate of 8%. If this trend continues, in 2010 the consumption volume of edible oil will reach 29,000,000 ton, and the proportion of imported edible oil is rising rapidly at about 20%-50% per year.

It is forecasted that in 2015 the consumption volume of edible oil will reach 30,000,000 ton and the average per person consumption volume will also reach 20 kg (in 2008 15 kg per person). Over 60% of the above-mentioned edible oil will completely rely on import ecause of the decrease of farm land and the limited yield of oil crops. In a word, the huge market of China is open for you and it is time to expand your business to China.

Chinese Olive Oil Market - Market Trends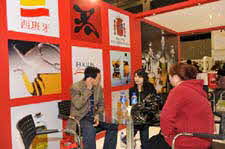 As one of the food with nutrition value, olive oil is more and more popular in China. At present more than 200 brands of olive oil can be found in Chinese olive oil market, among which nearly 100% are imported from Spain, Greece, Italy, Turkey, Tunis, Portugal, Jordan, Australia, etc. The main consumption cities of olive oil are Beijing, Shanghai, Shenzhen, Guangzhou, Tianjin and other large and middle cities. According to the following graph, since 2004 the average proportion of imported olive oil has been keeping the increase of nearly 60% per year. With the same rate, by 2010 the volume of imported olive oil will be over 25,000 tons. Along with the improvement of the living standard of Chinese people and the health consciousness, olive oil will have great potential in Chinese edible oil market.
Organizer
Beijing Regalland Convention & Exhibition Co., Ltd.
Room No. 438 Jin Ou Building, An Zhen Li,
Chao Yang District, Beijing 100029 China
Tel:+86 10 64416542 Fax:+86 10 64412631
Website:www.eoliveoil.com, www.regalland.com
E-mail: [email protected], [email protected]