Italian Meatballs Still King in New York's Boroughs
Nicky's Famous Meatballs Named "Best Meatballs in the Borough" at Dish du Jour 's Meatball Melee of the Boroughs
Recipe below
Astoria, NY (May 20, 2009) – Bello Giardino's "Nicky's Famous Meatballs" have reached a new level of fame. The succulent spheres were named "Best Meatballs in the Boroughs" by a panel of celebrity judges at yesterday's Meatball Melee of the Borough's competition, held at Dish du Jour magazine's annual food and wine gala, The Cuisine of Queens and Beyond.

Chef Nick Mormando, better known as "Nicky Meatballs," beat out a tough crowd of finalists including Manhattan restaurants Bar Stuzzichini, Campo, Carmine's and Molyvos; Queens restaurants, Mundo Café, Vesta Trattoria & Wine Bar and Agnanti Meze (which also has a Brooklyn location); Brooklyn restaurant Ignazio's Pizza; and Staten Island restaurant Pastosa Ravioli.
Celebrity judges Tony Tantillo, Frank Pellegrino, Michael Psilikas, Michael Maroni, and Joseph Risi, offered the audience food for thought while they sampled each entry. Frank Pellegrino, who celebrated his birthday with event attendees, pointed out that the problem with meatballs is that everyone thinks their grandmother's are the best. "Even if you taste a better meatball, you'd never admit it," Pellegrino joked. "At least not to your grandmother." Michael Maroni, famous for beating Bobby Flay in a meatball throwdown, offered participants tips for creating the perfect meatball. "It is the bread, milk and eggs that make the difference," Maroni said. He went on to describe the perfect meatball as moist on the inside and crispy on the outside. Nicky Meatballs agrees. The secret to his famous meatballs is that they are fried in a stainless steel pan, creating just enough crisp to compliment their moist, flavorful core.
"All ten restaurants that made it to the finals of our Meatball Melee competition were big contenders," said Dish du Jour publisher, Frances Grace. "But in the end, only one could be called the best in the boroughs and Bello Giardino's of Manhattan took the title of best ball."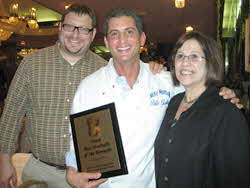 RECIPE
NICKY'S FAMOUS MEATBALLS
Winner of the 2009 Dish du Jour Magazine's Meatball Melee!
Ingredients:
• Meat: 1lb beef and 1 lb pork (instruct butcher to grind meats 3 times, if using pork and beef, grind together)
• Garlic: 7 or 8 cloves of garlic
• Eggs: 2 to 3 eggs
• Parmesan Cheese: 1/4 pound
• Parsley: Fresh Italian Parsley (large bunch) Italian Bread: One loaf of 2 day old Italian bread

Mixing Process:
1. Place beef/pork in bowl

2. Add garlic and use a garlic squeezer so that there are no large chunks

3. Add eggs and Parmesan cheese

4. Wash parsley leaves with water and chop them up very fine

5. In separate bowl, break up hard Italian bread and fill bowl with water. Let bread soak for a few minutes until bread is mushy. Squeeze the excess water and then add remaining ingredients above.

6. Mix all ingredients with hand. Remove all lumps of bread.

7. Make sure hands are wet when shaping meatballs. DO NOT PACK TIGHT

The results will be crispy outside and tender inside.

Use a medium sized cast iron frying pan and fry meatballs in Olive, Wesson or Mazola Oil. Fill frying pan with the oil to half the depth of the meatballs. Heat oil 3/4 of the flame (or medium high) Make sure oil is hot before putting meatballs in. Cook 8 to 10 at a time. Turn over when meat is brown. Finished meatball size should be approximately 1 to 1 1/2 inch in diameter.

Chef "Nicky Meatballs" aka Nick Mormando of Bello Giardino located at West 71st Street. The recipe can also be found on their website at: www.bellogiardino.com

About Dish du Jour Magazine:
Dish du Jour Magazine is a glossy publication dedicated to delivering the best in food and dining and the latest culinary trends to its readers. Dish du Jour targets Queens, as well as parts of Nassau County, Brooklyn and the New York City market. Each issue features profiles on the best restaurants and food shops in town and candid interviews with celebrity chefs and trendsetters in the restaurant industry. Dish du Jour provides cooking techniques, recipes and tips from chefs and informative articles on wines and spirits to its readers. Dish du Jour is the first in Queens to host a premiere food and wine gala, the Cuisine of Queens & Beyond. For more information, please visit www.dishdujourmagazine.com