See also: New Jersey Food Festivals
OPA! Big, Fat Greek Festival 2012
8th Annual Greek Festival to attract over 5,000 patrons to Hunterdon County - June 29-30 & July 1, 2012!
Flemington/Frenchtown, New Jersey: Ancient Greeks brought us democracy and the Olympics, both of which will be celebrated during the upcoming Fourth of July holiday and the 2012 Summer Olympics. St. Anna Greek Orthodox Church (a nonprofit organization) will honor another Greek tradition by once again bringing a "Taste of Greece" to Hunterdon County. The parish will host their eighth annual food and cultural festival, the "OPA!" BIG, "FAT" GREEK FESTIVAL on Friday, June 29th (4-10 pm), Saturday, June 30th (12-10 pm) and Sunday, July 1st (12-6 pm) at Razberry's Banquet and Conference Center, Route 12, Frenchtown (just a few miles west of the Flemington circle and Route 202).

Last year, the OPA! Big, Fat Greek Festival was named by voters on BestofNJ.com as one of the top Greek Festivals in the state. This three day event attracts over 5,000 people each year and offers an authentic cultural experience along with food and fun for the entire family. Reverend Anastasios Kousoulas commented on the popularity of the festival, "The construction currently underway of our church in Flemington is possible, in part, through the support we have received over the years from members of the community who attend our festival every year. We thank you for your continued patronage!" Festival chairpersons Louis Vlahakes and Robert Bongiovanni are busy expanding the festival this year, "The popularity of our festival continues to grow and we look forward with pride to satisfying this area's appetite for great Greek food!" The event is open to the public and parking is FREE. Hourly live entertainment and continuous music will create the Greek taverna dining experience that residents have come to appreciate and enjoy. Convenient take-out options are also available.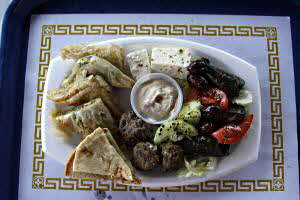 The 2012 festival continues the tradition of offering high quality, ethnic cuisine and an authentic cultural experience for all patrons. John Kaldes, author of 'Made in Greece: A Guided Tour of Greek Cooking', has developed a festival menu which features delicious, traditional Greek fare including pasticcio (pasta and meat casserole), moussaka (eggplant casserole), spanakopita (spinach and cheese pie), and souvlaki (pork or chicken kebobs), gyros, and lamb. Mr. Kaldes has a passion for preparing and sharing his authentic Greek cuisine with others and his cook book will be available for sale at the festival with proceeds benefiting the parish. Cooking demonstrations are also planned throughout the weekend. For those with a sweet tooth, the festival's "Kafenio OPA" (coffee and dessert center) will offer a tempting variety of delectable Greek pastries and Greek coffees including baklava (honey nut strudel), koulourakia (butter cookies), kourabiedes (almond shortbread cookies) and loukoumades (honey covered doughnuts).

The festival is a destination for both food and wine enthusiasts. George Staikos, local sommelier and wine educator, has selected a variety of Greek wines paired to especially enhance the dishes served at the festival and representing the different regions of Greece. Greek wine tastings will be offered during the weekend. Featured wines include Boutari and Achaia Clauss, among others. Refreshing imported and domestic beers will also be served.
Along with the culinary attractions, the festival will offer a full schedule of cultural entertainment throughout the weekend. The opening ceremony on Friday evening will include a theatrical re-enactment of the lighting of the ancient Olympic torch at Mount Olympus. Several patriotic tributes will be performed in honor of the Fourth of July holiday as well. Continuous Greek music and scheduled folk dancing performances by the parish youth dance troupes (ages 5-17), will be led by former members of the Hellenic Dancers of New Jersey (a semi-professional dance troupe affiliated with the NJ State Council on the Arts). These groups will wear authentic costumes and perform traditional dances representing various regions of Greece. Visiting dance troupes have also been invited to perform and Greek dance lessons and contests will be held. The entertainment line-up will also include local community performers including members of the AP Motion Dance Company of Flemington and the Fiddle Club of Hunterdon Central Regional High School. The Greek Warriors (living history group) and Sparkee from the Somerset Patriots are also expected to be part of the festivities along with a live bouzouki performance and a few surprise events to tie in with this year's Olympic tribute.

This community-wide event includes support from local groups and businesses that assist with the festival efforts via food, product, and material donations. (Festival business sponsorship information is available on the parish website). In addition to area resident, Deno Orginos who donates the use of Razberry's facility for the entire weekend, several local businesses have supported the festival via food and material donations as well as sponsorship including EVCO Mechanical, Colalillo Shoprite, and diners from throughout the surrounding areas. St. Anna has also recently partnered with the "Make a Wish" foundation. Father Anastasios explained, "We have been so fortunate to see our wishes come true in building our church. We want to 'give back' by partnering with Make-a-Wish of New Jersey this year to sponsor a sick child so that their wishes can come true, too." More information about this partnership will be available at the festival.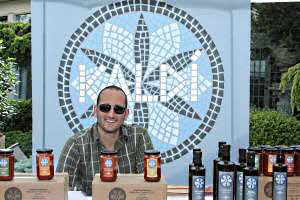 The "AGORA" Marketplace, will feature a shopper's paradise of vendors and a huge selection of fine and costume jewelry, hand-crafted items, clothing, and imported Greek specialties. Gourmet specialties include Greek extra virgin olive oils, coffee, honey, fruit preserves and spices. Religious displays and exhibits featuring hand-made Byzantine style icons will be available. Original oil paintings by local artist, Stefanos Sideris will also be available.

All proceeds support the progress of Saint Anna Greek Orthodox Church and its construction efforts. The parish held a ground breaking in the fall and construction is well underway on their church and community center at 85 Voorhees Corner Road in Raritan Township. Visit the parish website at www.StAnnaGOC.org to view a photo gallery of the building.

For more information and directions to the OPA! Big "Fat" Greek Festival, please visit www.bit.ly/GreekFest2012, email [email protected] , or call the Parish Office at 908? 782?9741.