A Taste of Colorado Restaurant Awards
A Taste of Colorado Names 'Best of Taste' Restaurant Awards
September, 2012
Downtown Denver's biggest menu is served at the 29th annual A Taste of Colorado, with many of Colorado's favorite food establishments and noted restaurants being awarded the honor of "Best of Taste." The four-day, free admission, food, music, and entertainment Festival took place Labor Day weekend, Aug. 31 through Sept. 3, in Downtown Denver's Civic Center Park.

THE 2012 BEST OF TASTE RESTAURANT WINNERS ARE: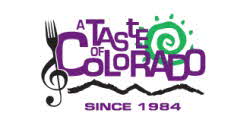 • The Best of Taste
1. Joe's Crab Shack
2. Saltgrass Steakhouse
3. La Fondue

• Best Decor
1. Saltgrass Steakhouse
2. Sushi by Night
3. Falafel King

• Most Unique
1. Hard Rock Cafe
2. Bayou Bob's
3. Tocabe

• Best Value
1. Perkins Restaurant & Bakery
2. La Fondue
3. Joe's Crab Shack

• Best Menu
1. Joe's Crab Shack
2. Mustard's Last Stand
3. Marco's Coal Fired Pizza
THE 2012 BEST OF TASTE FINE DINING WINNERS ARE:
• Best of Taste: Randolph's Restaurant
• Best Decor: Parallel Seventeen
• Most Unique: Randolph's Restaurant
• Best Value: Parallel Seventeen
• Best Menu: Randolph's Restaurant

A Taste of Colorado Announces Annual "Festimates"
After four days of fun, food, and family entertainment enjoyed by roughly 500,000 people at the 29th annual A Taste of Colorado in Civic Center Park, Festival organizers have compiled their annual list of "festimates."
• 70,000 ribs
• 550 lbs. of chocolate
• 22,000 ears of corn on the cob
• 700,000 calories burned by Date Night Denver volunteers practicing for their flash mob
• 8,800 turkey legs
• 5,000 toothbrushes and tubes of toothpaste provided by Comfort Dental
• 4,100 gallons of BBQ sauce
• 600 free backpacks donated by BIC to Denver's Cowell Elementary School, in partnership with nonprofit Adopt-A-Classroom
• 8,500 tacos
• 120,500 tomato slices
• 21,500 slices of pickles
• 2,000 "ride 'n drives" of Ford electric and hybrid vehicles
• 21,700 lbs. of shrimp
• 600 lbs. of crawfish
• 825,000 Jelly Beans
• 3,100 lbs. of goat and lamb
• 19,200 lbs. of chicken
• 875 lbs. of cinnamon and sugar
• 1,500 gallons of International Delight Iced Coffee
• 11,300 lbs. of steak
• 10,200 sausages
• 1,200 lbs. of cheddar cheese sauce
• 10,000 lbs. of Albert Bartlett Rooster Potato wedges
• 22,000 meatballs

About A Taste of Colorado www.ATasteofColorado.com
Festival of Mountain and Plain. A Taste of Colorado is a community celebration that is produced by and benefits Downtown Denver Events, Inc., the Downtown Denver Partnership family's community events non-profit organization. The Festival is an opportunity for people throughout the region to come together to experience and appreciate our diverse cultural traditions, and to learn more about our state's Western heritage. The Festival highlights visual and performing arts in addition to featuring educational programs and culinary demonstrations.