SPIRAL SLICED HAM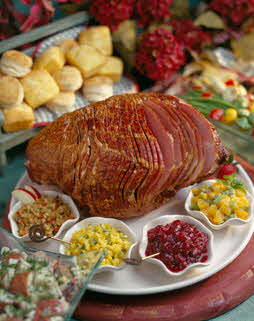 Serves 12.

5-6 pound sprial-sliced ham

Cooking Directions
Place ham in shallow pan and heat in a 350 degree F. oven, uncovered, for 1¼ to 1½ hours or until an inserted meat thermometer reads 140 degrees F. (about 15-18 minutes per pound).

Serving Suggestions
Simple and basic and goes with any traditional side dishes.
Serve with a couple different fruit salsas or chutneys, like Orange-Mint Salsa or Sweet-n-Hot Apple Chutney from the condiment area.

Recipe and photo courtesy of National Pork Board. For more information about The Other White Meat, visit TheOtherWhiteMeat.com