SMOKED HAM WITH CRANBERRY CHUTNEY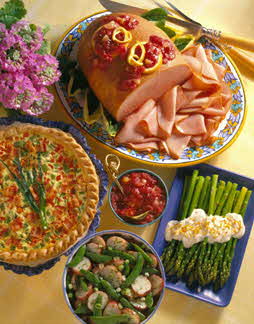 Serves 16
Ingredients
• 4-6 pound boneless, full-cooked smoked ham
• 1 16-oz. can whole-berry cranberry sauce
• 1 8¼- oz. can crushed pineapple, drained
• 1 5-oz. bottle prepared horseradish

Cooking Directions
Place ham in shallow roasting pan. Roast, uncovered, in a 325 degree F. oven for 1 to 1½ hours (about 15-18 minutes per pound), or until meat thermometer registers 140 degrees F.

Remove from oven, slice thinly to serve.

Meanwhile, combine remaining ingredients in medium bowl.

Transfer to serving bowl, serve immediately or cover and chill until serving.

Serve chutney alongside ham.

Serving Suggestions
Serve with roasted new potatoes and sauteed fresh asparagus. A classic Easter meal to please the whole family!

Nutrition Facts
Calories 160 calories; Protein 21 grams; Fat 3 grams; Sodium 1540 milligrams; Cholesterol 55 milligrams; Saturated Fat 1 grams; Carbohydrates 13 grams

Recipe and photo courtesy of National Pork Board. For more information about The Other White Meat, visit TheOtherWhiteMeat.com