HAM WITH MANGO GLAZE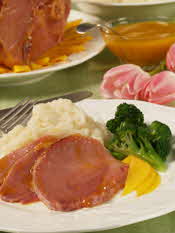 Serves: 6
Prep Time: 10 minutes
Cook Time: 1 hour

Ingredients:
• 2 ripe mangos, peeled, pitted, and cubed
• ¼ cup honey
• 2 tablespoons fresh lemon juice
• ¼ teaspoon cinnamon
• ¼ teaspoon ground allspice
• 1 boneless ham, about 3 pounds

Instructions:
Preheat oven to 350°F.

Place mangos, honey, lemon juice and spices in a blender or food processor; puree until smooth.

Score the surface of the ham in a diamond pattern with a sharp knife and place in a shallow baking dish.

Brush with some of the mango glaze.

Bake for 1 hour, basting with glaze frequently.

Slice ham and serve with any remaining glaze.

Recipe courtesy of the National Mango Board (www.mango.org)