MOLASSES BLACK PEPPER GLAZED HAM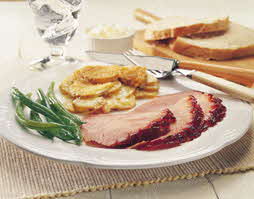 Serves about 20, with leftovers.
Ingredients
• 1 fully-cooked, bone-in smoked ham, 10-12 pounds
• 2 cups orange juice
• 1/4 cup honey
• 1/4 cup molasses
• 2 tablespoons brown sugar
• 2 tablespoons Dijon-style mustard
• 1 tablespoon coarsely ground black pepper

Cooking Directions
Place ham in shallow roasting pan; score a diamond pattern about 1/8-inch thick into the upper surface of the ham. Position rack in the lower third of the oven; heat to 325 degrees F. Place ham in oven and bake until internal temperature, as measured with a meat thermometer, reads 130 degrees F., about 1½-2 hours.

Meanwhile, in a small saucepan bring the orange juice to a boil; reduce heat to a simmer and reduce the orange juice by about half, stirring occasionally, about 15-20 minutes.

Stir in honey, molasses, brown sugar, mustard and pepper.

Simmer slowly until thickened, about 25-30 minutes. Set aside.

When ham reaches 130 degrees F., start basting: Using a pastry brush, brush the glaze generously on all surfaces of the ham.

Continue to bake for 10 minutes; baste again two more times, until internal temperature of ham reaches 140 degrees F.

Remove from the oven and let the ham rest in roasting pan on a rack for at least 10 minutes, or up to 30 minutes.

Baste with the drippings in the bottom of the pan a few times before carving.

This recipe was developed by Chef Kent Rathbun of Abacus Restaurant in Dallas. Recipe courtesy of National Pork Board. For more information about The Other White Meat, visit TheOtherWhiteMeat.com