GLAZED HAM WITH PINEAPPLE-RAISIN SAUCE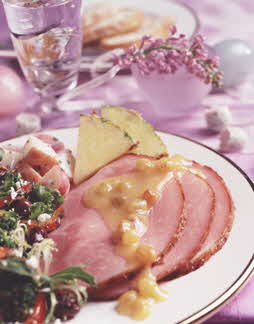 Serves 18.
Ingredients
• 5-pound cooked boneless ham
• 1 can (6 ounces) frozen pineapple-orange or pineapple juice concentrate
• 3 tablespoons maple syrup
• 3 tablespoons white balsamic vinegar
• 1/4 teaspoon dried thyme, crushed
• 1/3 cup finely chopped onion
• 1 tablespoon butter
• 1¼ cups water
• 3/4 cup golden raisins
• 1/4 cup maple syrup
• 1/2 teaspoon dry mustard
• 1/4 cup white balsamic vinegar
• 4 teaspoons cornstarch

Cooking Directions
Heat oven to 325 degrees F.

Place ham on rack in shallow roasting pan. Bake, uncovered, for 1 1/4 hours, until internal temperature (measured with a meat thermometer) is 140 degrees F. (about 15-18 minutes per pound.)

In small saucepan, combine half of the juice concentrate, 3 tablespoons maple syrup, 3 tablespoons vinegar and thyme. Bring to a boil. Reduce heat to low, simmer uncovered, for 5-10 minutes or until slightly thickened, stirring occasionally.

Baste the ham with glaze the last 15-20 minutes of baking. Remove ham from oven, slice and serve with Pineapple-Raisin Sauce.
Pineapple-Raisin Sauce:
In a medium saucepan, sauté onion in butter until tender.
Add remaining juice concentrate, water, raisins, maple syrup and mustard.
Stir together 1/4 cup vinegar and cornstarch; stir into raisin mixture.
Cook and stir until thickened and bubbly.
Cook and stir for 2 minutes more.
Serving Suggestions
Treat your Easter guests with this glazed ham. Top with the pineapple-raisin sauce and serve with new potatoes and your favorite springtime salads.

Nutrition Facts
Calories 260 calories; Protein 27 grams; Fat 8 grams; Sodium 1520 milligrams; Cholesterol 70 milligrams; Saturated Fat 2 grams; Carbohydrates 19 grams; Fiber 0 grams

Recipe and photo courtesy of National Pork Board. For more information about The Other White Meat, visit TheOtherWhiteMeat.com