HAM AND SWEET POTATO POT PIE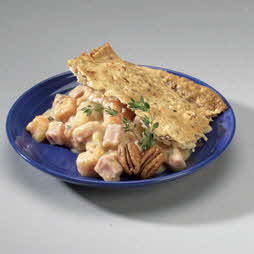 Serves 4 to 6.
Ingredients
• 1 cup chopped onion
• 2 cups cubed sweet potatoes or 2 (15-ounce) cans sweet potatoes, drained and cubed
• 2 cups canned chicken broth, divided
• 1/2 cup all purpose flour
• 1 cup skim milk
• 2 cups cubed cooked ham
• 1 9-inch refrigerated pie crust
• 1/2 cup finely chopped pecans
• 1 tablespoon thyme

Cooking Directions
Preheat oven to 350 degrees.

In large pot coated with nonstick cooking spray, sauté the onion over a medium high heat for 5 minutes.

Add fresh* sweet potatoes and 2/3 cup chicken broth.

Bring mixture to a boil and simmer over medium heat for 10 to 15 minutes or until sweet potatoes are tender.

If using canned yams, add them and 2/3 cup chicken broth to sauteéd onion; heat thoroughly.

Add flour, stirring.
Gradually add milk, stirring until well combined.
Add ham.

Bring to a boil and transfer mixture to a 7x11 inch baking dish coated with nonstick cooking spray.

If mixture is too thick, add more broth or milk.

Unfold crust to round circle; sprinkle pecans on one side.

Fold in half and roll with rolling pin, pressing pecans into crust.

Spread pecan crust on top of mixture and bake for 30 minutes or until crust is brown; sprinkle with thyme.

* Canned sweet potatoes are precooked.
Serving Suggestions
Who says that you just have to make sandwiches with leftover ham? Give the centerpiece ham a new flavor with this tasty pot pie. Serve with fruit salad.

Nutrition Facts
Calories 482 calories; Protein 20 grams; Fat 25 grams; Sodium 1442 milligrams; Cholesterol 35 milligrams; Saturated Fat 5 grams; Carbohydrates 46 grams; Fiber 4 grams

Recipe and photo courtesy of National Pork Board. For more information about The Other White Meat, visit TheOtherWhiteMeat.com