ORANGE SESAME VINAIGRETTE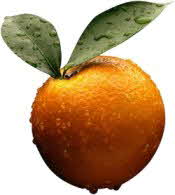 Appetite for Reduction
by Isa Chandra Moskowitz

This dressing is heavenly; fruity, toasty, spicy, and tangy. Toasted sesame oil is kind of a godsend for dressings because it has so much flavor and a little goes a long way.
Active Time: 10 Minutes
Total Time: 10 Minutes
Serves 4

INGREDIENTS
• 3/4 cup freshly squeezed orange juice (2 to 3 navel oranges)
• 2 tablespoons red wine vinegar
• 1 tablespoon toasted sesame oil
• 1/8 teaspoon salt
• 1 teaspoon hot chili sauce, such as Sriracha
• 1 teaspoon Microplaned or finely minced fresh ginger

DIRECTIONS
Vigorously mix together all the ingredients. Just mix them right into a measuring cup so as not to use too many dishes. If you're using the dressing for a grain salad, you can also mix it directly into the large mixing bowl that you will use to prepare your sala0d. Keep refrigerated in a tightly sealed container until ready to use.

NUTRITION
Per Serving (About 1/4 Cup):
Calories: 50; Calories from fat: 30; Total fat: 3.5 g; Saturated fat: 0g; Trans fat: 0 g; Totalcarb: 5 g; Fiber: 0 g; Sugars: 4 g; Protein: 0 g; Cholesterol: 0mg; Sodium; 100 mg; Vitamin A: 0%; Vitamin C: 40%; Calcium: 0%;
INGREDIENT SCAVENGER HUNT
Make sure your sesame oil is labeled "toasted sesame oil" Toasting the seeds brings out a lot of bold flavor, where regular sesame oil might just fall flat. It's usually found in the oil section of the supermarket, although sometimes it can be found in the Asian aisle.