MAPLE VINAIGRETTE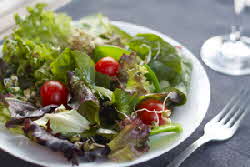 Delicious on salads containing nuts and dried fruits, or as a marinade for chicken and fish, The BALSAMS' Maple Vinaigrette uses maple syrup from deep in New Hampshire's North woods to create this sweet and tangy vinaigrette. Any rich Grade AA Maple Syrup will do.
Makes 2 Cups.

• 1 Cup Vegetable oil
• 1/2 Cup Maple syrup
• 1/2 Cup Apple cider vinegar
• 1 Tablespoon Finely minced shallot
• Pinch Nutmeg
• Pinch Cinnamon
• Salt and freshly ground black pepper

To make the dressing, whisk the syrup into the oil a little at a time, and then add the vinegar and the shallots.

Season to taste and chill.

In New England, Québec, and extreme eastern Ontario, city slickers often travel to sugar houses, or in Québec cabanes à sucre in early spring to enjoy rustic maple-syrup based meals. In a similar, albeit far more luxurious tradition, each spring guests of the BALSAMS Grand Resort Hotel in Dixville Notch, NH enjoy Executive Chef Larry Johnson's delicious maple creations. Recently voted the #1 for food in the United States by the readers of Condé Nast Traveler, for the first time The BALSAMS is releasing its Maple Vinaigrette recipe just in time for spring.
www.TheBalsams.com