EDAMAME AVOCADO DIP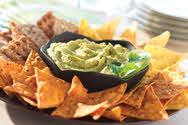 Prep Time: 10 min.
Cook Time: 3 min.
Makes 8 servings (2 cups)

Ingredients
• 1 1/2 cups frozen shelled edamame or frozen peas
• 1 medium Haas avocado, peeled and pitted
• 1/3 cup light sour cream
• 3 tbsp. FRENCH'S® Spicy Brown Mustard
• 2 medium green onions, chopped
• 3 tbsp. lime juice
• 2 tbsp. prepared salsa
• 1 tsp. minced garlic
• 1/4 tsp. salt

Directions
1. COOK edamame according to package directions; drain and cool. Transfer to food processor.

2. CHOP edamame in processor. Add avocado, sour cream, mustard, green onion, lime juice, salsa, garlic and salt. Process until smooth.

3. SERVE with baked tortilla chips or veggies.

Nutrition
Nutritional Analysis Per 1/4 cup Serving: 98 Calories, 6 g Fat, 1 g Saturated Fat, 0 Trans Fat, 3 mg Cholesterol, 5 g Protein, 7 g Carbohydrates, 3 g Fiber, 200 mg Sodium.