FONDUE, SHARP CHEDDAR FONDUE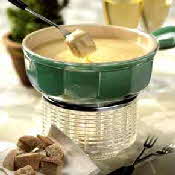 Makes 12 appetizer servings
Ingredients
• 1 cup dry white wine
• 2 cloves garlic, minced
• 2 bay leaves
• 8 ounces Cabot Sharp Cheddar, grated (about 2 cups)
• 1 tablespoon cornstarch
• 1 tablespoon cold water
• Pinch grated nutmeg

Directions
1. In enameled or stainless steel saucepan, bring wine, garlic and bay leaves to simmer.
Slowly whisk in cheddar and bring back to simmer.

2. In small bowl, stir together cornstarch and water; whisk into cheese mixture and continue whisking until simmering and slightly thickened. Add nutmeg.

3. Transfer to fondue pot. Serve with large cubes of French or Italian bread, slices of fresh apple or pear, or fresh vegetables.

Nutrition Analysis
Calories 93 , Total Fat 6g , Saturated Fat 4g , Sodium 118mg , Carbohydrates 1g , Dietary Fiber <1g , Protein 5g , Calcium 140mg

Recipe & photo from Cabot Creamery Cooperative
www.cabotcheese.com
Recipe courtesy of Chef Jeffrey Weiss.