FONDUE, NORTHERN CHEESE FONDUE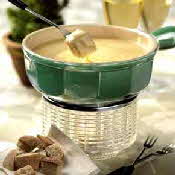 Makes 16 servings
Ingredients
• 1 tablespoon unsalted butter
• 1 tablespoon minced green onion
• 1 teaspoon minced shallot
• 1 teaspoon minced garlic
• 2 cups dry white wine
• 8 ounces grated Cabot Pepper Jack
• 8 ounces grated Cabot 75% Reduced Fat Cheddar
• Pinch grated nutmeg
• 2 teaspoons cornstarch
• 2 teaspoons water
• 1 teaspoon slivered fresh basil leaves

Directions
1. In heat-proof fondue pot over medium heat, melt butter. Add green onion, shallot and garlic and cook, stirring, until vegetables are tender, about 5 minutes.

2. Add wine and bring to boil. Reduce heat to maintain gentle simmer and cook for 5 to 10 minutes longer.

3. Whisk in cheeses and nutmeg and return fondue to simmer, stirring constantly. In small bowl, stir together cornstarch and water; whisk mixture into fondue. Serve sprinkled with basil and surrounded with vegetables.

Nutrition Analysis
Calories 118 , Total Fat 7g , Saturated Fat 5g , Sodium 182mg , Carbohydrates 1g , Dietary Fiber <1g , Protein 8g , Calcium 203mg

Recipe & photo courtesy of Cabot Creamery Cooperative
www.cabotcheese.com