CRISPY MANDARIN RIBLETS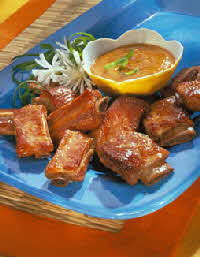 Serves 6.
Ingredients
• 4 pounds pork spareribs, sawed in thirds across bones*
• 1/4 cup lite soy sauce
• 2 tablespoons dry sherry
• 1 garlic clove, crushed

Cooking Directions
Cut ribs into 1-rib pieces.
Place in steamer basket or on steamer rack.
Set basket over boiling water; cover pan and steam 30 minutes.

Meanwhile combine soy sauce, sherry and garlic in large bowl; add ribs and stir to coat each rib well.
Marinate 1 hour, stirring frequently.

Remove ribs from marinade and place, meaty side up, on rack of broiler pan.

Bake in 425 degree F. oven 15 minutes, or until brown and crispy.

Serve with warm Mandarin Peach Sauce (see condiments).

* Ask your butcher to cut spareribs in thirds across the bones.

Serving Suggestions
No one will be able to resist these delicious rib pieces, especially when served with Mandarin Orange Sauce.
Add warm rolls and steamed corn-on-the cob to complete the menu.

Nutrition Facts -
Nutrition per serving plus 3 tablespoons sauce.
Calories 564 calories; Protein 36 grams; Fat 36 grams; Sodium 950 milligrams; Cholesterol 143 milligrams; Saturated Fat 13 grams; Carbohydrates 19 grams
Recipe and photo courtesy of National Pork Board.
For more information about The Other White Meat, visit TheOtherWhiteMeat.com