Beef Mini-Burgers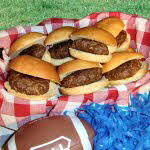 Add a fun spin to your next burger.

Servings: Serves 5 (10 appetizers)
Prep Time: 5 minutes
Cook Time: 10 minutes

Ingredients:
• 1 lb. lean ground beef
• 1 package dry onion soup mix
• 1 cup sharp cheddar cheese, shredded
• 1 package dinner rolls
• various condiments

Instructions:
Mix 1 packet dry onion soup mix with ground beef.

Stir in shredded cheese.

Make small patties, aproximately 2 1/2 inches in diameter.

Grill, or broil, over medium-high heat approximately 4 minutes per side, until meat thermometer registers internal temperature of 160°F.

Place in sliced dinner rolls.

Serve with condiments, such as pickles, swiss cheese, mayo mixed with hot pepper sauce, BBQ sauce, and sauted mushrooms.

Recipe courtesy of the Texas Beef Council