Beef Gyros Appetizers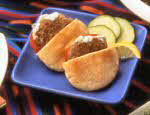 An impressive, but easy, appetizer.

Servings: Makes 16
Prep Time: 20 minutes
Cook Time: 10 minutes

Ingredients:
• 1 lb. lean ground beef
• 4 plum tomatoes, cut into thin slices
• 8 small pita pocket breads (4-inch diameter), cut in half, warmed


Seasoning:
• 1 clove garlic, crushed
• 1/2 tsp. salt
• 1/2 tsp. dried oregano leaves
• 1/4 tsp. pepper


Yogurt Sauce:
• 2/3 cup plain low-fat yogurt
• 1/3 cup chopped cucumber
• 3 Tbsp. finely chopped onion
• 2 tsp. chopped fresh parsley

Instructions:
In small bowl, combine Yogurt Sauce ingredients, mixing well. Cover and refrigerate.

Heat oven to 350°F. In medium bowl, combine ground beef and seasoning ingredients, mixing lightly but thoroughly.

Divide beef mixture into 16 equal portions; shape into patties 2 inches in diameter.

Place patties on rack in broiler pan. Bake in oven 10 minutes or until no longer pink.

To serve, place equal amounts of beef and tomato in each pita half; top with yogurt sauce.

Recipe courtesy of the Texas Beef Council