ASPARAGUS PROSCIUTTO ROLLS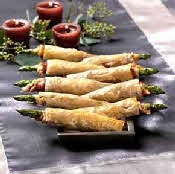 Makes 12
Ingredients
• 12 asparagus spears
• 4 large (14- by 18-inch) sheets phyllo dough, thawed
• 12 thin slices prosciutto
• 12 thin slices Cabot Tomato Basil Cheddar
• 4 tablespoons Cabot Salted Butter, melted

Directions
1. Preheat oven to 375ºF. Have bowl of ice water on hand.

2. In pot of boiling, salted water, cook asparagus for one minute. Transfer to ice water with slotted spoon. Once cool, transfer to paper towels to drain; pat dry.

3. Lay first phyllo sheet on cutting board; brush entire surface with melted butter. Top with next phyllo sheet and brush with butter; repeat with remaining two sheets. Cut into 12 smaller rectangles.

4. Place one piece of prosciutto and cheddar on each rectangle. Place asparagus spears on top with tips extending beyond edges. Roll phyllo up around asparagus and brush with additional butter.

5. Place rolls on baking sheet and bake for 10 to 12 minutes, or until golden.
Serve warm.

Nutrition Analysis
Calories 227 , Total Fat 16g , Saturated Fat 9g , Sodium 989mg , Carbohydrates 5g , Dietary Fiber <1g , Protein 15g , Calcium 202mg

Recipe & photo from Cabot Creamery Cooperative
www.cabotcheese.com
Recipe courtesy of Chef Jeffrey Weiss